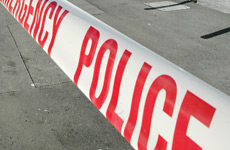 Waikato police are appealing for information after a 28-year-old man was killed in a volley of shots fired from a car early this morning.
Detective Inspector Peter Devoy said the local man was shot outside a house in McGowan street in Waharoa, near Matamata, about 1am.
He said the shooting victim had earlier been involved in a disagreement at another property in the small community.
Police have cordoned off two properties on the street and are speaking to a number of witnesses to the fatal shooting.

"It appears our victim has been at another address where a disagreement of some sort has happened, they have left and were standing outside the McGowan St property when a car approached from a westerly direction," Mr Devoy said.
"Pulling up on the roadside near the victim's group someone in the car has fired a volley of shots, a number of which have struck our victim."
Mr Devoy said the car returned to McGowan Street a short time later and fired a second volley of shots, but no-one was injured.
The Waikato Armed Offenders Squad arrived in Waharoa about 3am.
"About 5am a Hedley St address was secured by armed officers and this is currently cordoned off to allow forensic experts and Police investigators to carry out examinations," said Mr Devoy.
He urged Waharoa and Matamata residents to remain calm and to co-operate with investigators.
"One of the advantages of living in small communities is that everyone knows everyone else, we want to tap into that knowledge," he said.
Anyone with information should contact Matamata police station on (07) 888 7117.
- NZHERALD STAFF