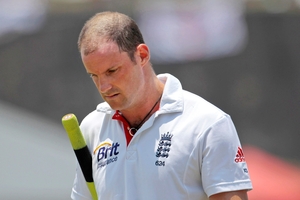 Former England captain Andrew Strauss has lifted the lid on his stand-off with Kevin Pietersen that overshadowed his final days as an international cricketer, saying he felt "let down" by the star batsman.
And his comments, in his autobiography, My Driving Ambition, placed a question mark over his expressed interest in succeeding Hugh Morris as England's new managing director of cricket - a position that would effectively mean he was Pietersen's boss.
Strauss retired in August last year following England's test series loss to South Africa during which the generally good relations he enjoyed with Pietersen, the man he succeeded as captain, hit rock bottom.
The low points came following reports Pietersen, South Africa born and raised, had sent derogatory text messages to his friends in the Proteas' dressing room regarding Strauss, including advice on how to dismiss the left-hander.
The texts became public after a drawn fourth test in Leeds where Pietersen scored a superb 149 only to say it was "hard being me" in the England dressing room, with the fallout seeing the gifted shotmaker dropped from the team that played the final test against the Proteas.
Strauss, recalling his feelings, wrote: "The England cricket team are in crisis again. Coach Andy Flower and I have found ourselves in the middle of a destabilising and potentially damaging PR game between Kevin Pietersen, the England cricket team and the ECB (England and Wales Cricket Board)".
"I feel incredibly tired, as though I have simply run out of energy - I have nothing more to give. I am also wallowing in a rising tide of sadness. There were many involved with English cricket, including myself, who felt particularly let down."
Strauss, on the possibility of succeeding Morris as the ECB's managing director of cricket, said: "I'm looking into it but they're decisions that need to made over the next couple of weeks and I'll think quite long and hard about whether it's the right time and the right job for me."
- AFP