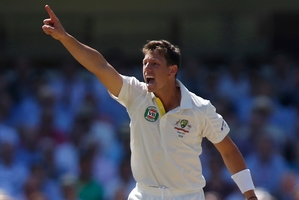 In an ill-timed announcement destined to spark more criticism from frustrated Australian test cricket fans, the Melbourne Renegades announced the signing of fast bowler James Pattinson for the domestic T20 Big Bash League only hours after he was ruled out of the Ashes series in England with an injured back.
Cricket Australia released a statement yesterday saying Pattinson will miss the remainder of the Ashes tour after reporting hip and back soreness on the last day of the second Ashes test, which England won by 347 runs on Monday to take a commanding 2-0 lead in the five-match series.
Critics were already scathing of Cricket Australia's apparent focus on limited-overs formats at the expense of developing quality test players before the Renegades chipped in with news that Pattinson and fellow Australia paceman Peter Siddle were looking forward to the T20 season.
"I think we've got a fantastic team on the field and this year with a few more people coming in, expect some fiery, fast spells," the 23-year-old Pattinson said in a Renegades statement.
The Australian test team, which dominated international cricket in the last 1990s and early 2000s, is now in tatters after a 4-0 sweep in India and back-to-back losses in England.
Mickey Arthur, the first foreigner appointed as Australia's head cricket coach, was fired less than three weeks before the Ashes series began and replaced by Darren Lehmann, and later revealed in paperwork for a legal case for unfair dismissal that there was bitter infighting within the squad.
Now the Australians, preparing for the third test against England at Manchester on August 1, are on the brink of a worst-ever streak in test cricket.
The six consecutive defeats is already Australia's worst run since 1984.
Despite the increasing scrutiny of Australia's test deficiencies, Siddle said he was focused on gaining more match experience in T20s.
"I want to get back into playing short-form cricket," he said in a Renegades statement.
"To have that opportunity again in four-over bursts, having a crack and getting the pace up there. I think it'll be a lot of fun."
Also joining the Renegades are Australian test hopeful Fawad Ahmed the Pakistani refugee who became an Australian last month thanks largely to an amendment to the country's citizenship laws and Sri Lankan spin great Muttiah Muralitharan.
Meanwhile, Michael Clarke's squad faces the prospect of leaving England after the five-match series with a host of unwanted records, and then hosting England in another five-test series starting in November.
Despite the test team languishing and former players and critics complaining about the lack of emphasis on preparing players, particularly batsmen, for the rigors of test cricket, CA this week released a statement saying how well the T20 Big Bash League strategy is working.
"The league has been successful in attracting a new, diverse fan base in its first two years with its mix of big hits, great value and explosive action," it said.
- AAP