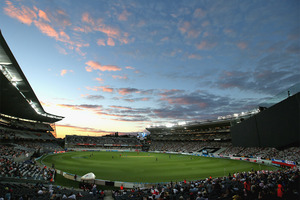 The identity of World Cup venues for 2015 is still several weeks away.
The tournament will be co-hosted by New Zealand and Australia in February-March 2015, and there had been hopes of confirming where the 49 matches will be played this month.
However Therese Walsh, head of New Zealand operations for the Cricket World Cup, said details might not be released for up to two months yet.
"The logistics and practicalities of organising this across two countries are quite significant and it is taking longer than we expected to get it all finalised," Walsh, a board member of New Zealand Cricket, said yesterday.
"There's no problems, it's just a question of working through it all and getting appropriate sign-off from the International Cricket Council."
Walsh confirmed that between five and 10 New Zealand venues are in the frame for hosting matches, while other locations are expected to fill support roles, either providing practice facilities or hosting warm-up games for the 14 teams.
She said Christchurch's Hagley Oval, due to go before the Environment Court next month for building approval, was "absolutely" in the mix to host games.
"They put in a compelling bid, but it has always been conditional on Hagley Oval being redeveloped to the appropriate level. They'll be needing a positive outcome from [the court] in order to proceed because we wouldn't be taking matches there unless that happened."
That decision is due by the end of July and Walsh said it might dovetail with the venue announcement.
If it didn't, there might be a conditional announcement ahead of the court's decision.