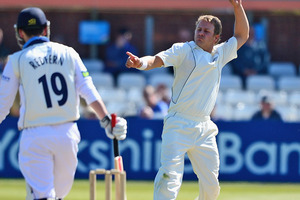 A five-wicket bag from Neil Wagner has taken New Zealand to a 107-run victory against Derbyshire in the opening match of their England tour.
Derbyshire were dismissed for 227 in their second innings shortly after tea. New Zealand declared without adding to their overnight total of 199 for five, enabling their bowlers to be put under a touch of pressure defending the 334-run lead. It is New Zealand's fourth win in 11 encounters against Derbyshire, dating back to 1927.
In taking five for 45 in the second innings - including the openers, despite bowling first change - Wagner went past 300 first-class wickets and appeared to cement his test place. He sacrificed his right big toenail in getting his 13th first-class five-wicket bag.
A month training with the English Duke ball at home paid off with Wagner making the most of reverse swing on an abrasive surface.
"The ball swings for longer periods here, even when the lacquer comes off after 10-15 overs," Wagner, who has previously played in the Lancashire leagues and for the Sussex second XI, said.
Doug Bracewell (three for 56) again performed strongly after taking four wickets in the first innings but, barring a raging green top at Lord's, coach Mike Hesson has indicated New Zealand will take spinner Bruce Martin into the first test.
"It's quite nice to have someone with a change of pace," he said.
That means there is only space for Tim Southee, Trent Boult and one other pace bowler. As the test incumbent, Wagner cannot be denied.
Hesson says he has no problem playing two left-arm pace bowlers (Boult and Wagner) at Lord's, despite the suggestion their footmarks over the wicket could assist England off-spinner Graeme Swann when he bowls to the predominantly right-handed New Zealand top order.
Hesson says the shadow test batting line-up will play against the England Lions at Leicester when that four-day match starts Thursday night. Southee, Boult, Ross Taylor and captain Brendon McCullum will be in the starting XI.