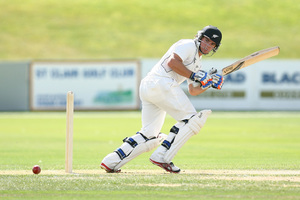 Tom Latham and Ian Butler are applying what might be termed the "Chris Pringle clause" this English cricket summer.
They are playing in England in the hope of being called up to the national side if injury should strike in the test and limited overs series, or the Champions Trophy.
Pringle's elevation into the New Zealand team is part of cricketing folklore. After one first-class season with Auckland, in 1990 he was playing for an English club. He went to a New Zealand practice searching for a spare ticket ahead of the opening one-day international at Leeds. An injury crisis saw him play. Pringle opened the bowling with Richard Hadlee and ended up playing 14 tests and 64 ODIs over the next five years.
This tour, Latham and Butler are on the periphery. Latham will play for Scotland after he completes his duties as a reserve in the test squad which leaves tomorrow. Butler is turning out for celebrity side Lashings, where he's likely to share a dressing room with Gordon Greenidge, Saqlain Mushtaq and John Emburey among other former players, in a series of village fixtures.
Latham and Butler were on the verge of making the test XI over summer. Butler got as close as 12th man. Earlier in the summer, he played two Twenty20 internationals. Latham vied for a test opening berth with Hamish Rutherford.
Latham says the opportunity to play for Scotland in the ECB's domestic 40-over competition is as good as he could hope for after missing the Champions Trophy squad.
"I wanted to play more than just club cricket if possible. I've spent the last couple of winters in New Zealand and this will give me the best opportunity to maintain form after the tests."
When Latham is not turning out for Scotland, he'll be playing in the Newcastle club competition.
"First and foremost, batting will get me into the side. Making the Black Caps will be a by-product of that hard work. I want to work on my top order technique as much as anything. I opened at school and age group level, so it's not unfamiliar."
New Zealand coach Mike Hesson has shown faith picking Latham in the test squad. Latham admits it wasn't his best first-class season with 430 Plunket Shield runs at 33.07, including a top score of 81. By comparison Latham's rival, 32-year-old Luke Ronchi (who is in the Champions Trophy squad) made four centuries as part of 807 runs at 62.07.
The long-term belief is that Latham is a team man who shows initiative and offers leadership despite turning 21 this month. When he was first picked for New Zealand by John Wright last year, he was described by then-Canterbury and now New Zealand assistant coach Bob Carter as worthy of fast-tracking: "He is diligent in his approach; a stickler for routine."
Then Canterbury captain and redeemed test opener Peter Fulton said: "He's quiet, respectful and willing to learn. He goes about his business in an understated way."
Latham's elevation to the Canterbury captaincy in Fulton's absence, as well as New Zealand A, is further evidence of his growing reputation in the senior ranks.
In contrast to Latham's fast-tracking, Butler rebuilt his reputation after a series of injuries over the years. His form last season was consistent across all domestic formats. The 31-year-old narrowly missed a test squad spot to the superior aggression of Mark Gillespie. Gillespie returned to fitness strongly over summer to top the Plunket Shield wickets tally with 45 at 31.37 (the same number as Northern Districts' Brent Arnel). Butler took 39 wickets at 25.12. He last played a test for New Zealand in October 2004.
"I think I'm playing the best cricket of my career," Butler says. "Hopefully I can keep it going another five years. It's always a bonus to put yourself within arm's reach of test selection but these days I'm better at putting the desperation of wanting to be picked to one side, which has actually helped.
"The last few years, I've used the English season with Lashings as an opportunity to stay fit and strong over the New Zealand winter in a fun environment. Their matches are often a huge event on the calendar for clubs who make a proper day of it. We often decamp to the local village pub afterwards and a band cranks into action. It's always a real festive cricketing occasion."