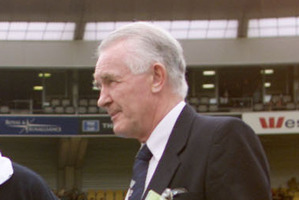 Mike Denness, the Scot who captained England at cricket, died yesterday at the age of 72, and is remembered for leading England on one of their most troubled tours of Australia.
He ensured himself an everlasting place in the annals by dropping himself from the side during the 1974-75 series which the home team dominated through the sheer pace of Dennis Lillee and Jeff Thomson.
England were defeated 4-1 in a series which gave rise to one of cricket's most celebrated rhyming couplets: "Ashes to ashes, dust to dust, if Lillee doesn't get you, Thomson must."
The tourists in general, and Denness in particular, had no answer to the blistering pace that the duo generated.
His appointment as captain - still the only man born in Scotland to lead England - was beset by controversy. The side's leading batsman at the time, Geoff Boycott, so resented being overlooked that he withdrew from the test team.
Denness' side had lost only one of 10 matches under his stewardship when they embarked for Australia in October 1974.
By then, he had led England to a remarkable drawn series in the Caribbean, with Boycott still in the side, and then won and drawn at home against India and Pakistan.
Nothing could have prepared England for what awaited them in Australia; nobody realised that they were about to encounter one of cricket's immortal opening pairs of fast bowlers. Denness, with a top score of 27 in six test innings, saw that there was nothing for it but to drop himself for the fourth test.
But England still lost that by 174 runs and were again heavily defeated in the fifth when he returned. It was a tribute to his determination that he scored 183 in the final match but Australia, by then, were without Thomson, who injured himself before the match, and Lillee, who pulled up during it.
The return to form was just enough for Denness to cling on to the captaincy the following summer, also against Australia.
He gambled in asking Australia to bat in the first test, leaving England to negotiate a wet pitch. They lost by an innings, Denness immediately offered to resign. He gave way to Tony Greig, who had been his vice-captain and predeceased him by four months.
As an exemplary county batsman, with Kent and for a few years at the end of his career with Essex, he made 25,886 first-class runs at 33.48 and was a pioneer of athletic fielding.
He returned to the game as an international match referee, where he showed himself to be fearlessly principled.
It was Denness who sanctioned six Indian players during a test against South Africa in 2001-02. Both sides refused to play the next match with him in charge and the International Cricket Council deprived it of test status.
-The Independent