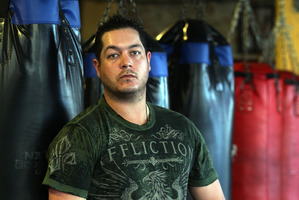 Jesse Ryder is being targeted to make a return to cricket in the inaugural Caribbean Premier League (CPL), starting in July.
The former Black Cap is recuperating from injuries suffered during an alleged attack in Christchurch last month but has been lined up to join fellow New Zealand batsman Ross Taylor at the month-long T20 competition.
Ryder's injuries, sustained when he was allegedly assaulted outside a Christchurch bar early on March 28, forced him to forgo his $300,000 contract in this month's Indian Premier League.
But the 28-year-old was last week released from hospital and is hopeful of making a full recovery, which would allow him to take his place at the six-team tournament from July 29 to August 26.
The Herald understands Ryder was being courted by officials from the CPL before the alleged assault, and, providing his recovery proceeds at a good pace, a return to the crease in the middle of the year is not out of the question.
His representatives would not comment last night but a well-placed source confirmed Ryder was wanted by the CPL.
Ryder suffered a fractured skull and punctured lung after allegedly being beaten following Wellington's season-ending loss to Canterbury. He made remarkable improvements after being brought out of an induced coma and there were no clear signs he sustained any serious long-term injuries.
The inaugural CPL may be an ideal environment for Ryder to make a comeback. Taylor was last week announced as the third foreign player to commit to the six-team league, following Australians Ricky Ponting and Adam Gilchrist.
The presence of the Australian pair, both retired from international cricket, provides some indication of the standard of competition expected, a level which would not subject Ryder to any strenuous demands.
The remuneration Ryder could receive is hard to judge because the CPL has revealed few details of the salary cap under which teams will each contract 15 players, but West Indies Cricket Board president Julian Hunte has said the league would provide retainers in excess of $400,000.
In the West Indies, Ryder would also be well away from the media spotlight the batsman tends to avoid.
Following a series of well-publicised incidents, Ryder opted to take a break from all cricket last year before returning to play for his province in the summer. He shone in all forms of the game for Wellington, prompting calls for his return to the national team, but Ryder steadfastly stuck to his plan of playing a full season for the Firebirds.
The CPL is scheduled during an international break for New Zealand, allowing the likes of Taylor to sign without jeopardising his involvement with the national team, before New Zealand tour Bangladesh in October.
Ryder will be under no illusions about the long road he faces if he wishes to return to international cricket, but playing in the CPL would be a start.
- APNZ