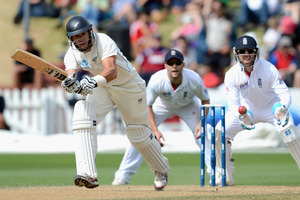 This international cricket season will have a permanent stink attached to it.
The 2012-13 season is heading down a similar path to the 1994-95 'Sex, drugs and rock 'n' roll' tour.
The assertive showing of the national team against England in the high profile series of the summer is fast being overtaken by an increasingly ugly off-field feud.
That disputing of events on the Sri Lankan tour late last year, on which Ross Taylor was told before the first test that he was no longer wanted as skipper, has resurfaced through an anonymous group which has former test batsman and commentator John Parker as its spokesman.
The group has compiled a lengthy document on the saga, listing details they believe led to his demotion in favour of Brendon McCullum after the Sri Lankan tour.
The report has been aired on the Radio Network and outlined on a Facebook page.
Two high profile people are known to have consulted lawyers after being named in the allegations, which included an alleged conflict of interest over Mike Hesson's appointment as coach last July. On legal advice, we have chosen not to repeat the allegations.
This issue has bubbled along for months now since Taylor was iced as national skipper.
There was the initial mishandling of the change of captain by Hesson and his management group; NZC's poor management of the situation once the team returned home; bowling coach Shane Bond hitting out in a leaked letter; and Taylor saying, the day after the thrilling drawn third test at Eden Park last week that he was "not as comfortable as I would like to be" within the team, drawing a decent old harrumphing from NZC chief executive David White.
Taylor added that "over the next couple of weeks or months things might get told ..."
NZC hit back yesterday over the Parker group's claims.
"The material consists of hearsay, speculation and rumour and appears to concentrate almost entirely on attempting to re-litigate the issues surrounding the replacement of Ross Taylor as captain," White said in a statement.
"It contains serious and untrue allegations against senior players in the team and other former players.
"NZC utterly rejects the attack made on Brendon McCullum. At no time was Brendon McCullum in any way personally involved in the replacement of Ross Taylor as captain. Brendon behaved honourably at all times in this matter.
"The allegations ... are divisive, untrue and reflect poorly on them rather than the players they have wrongly attacked."