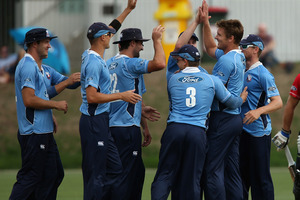 Assertive bowling backed by their slickest fielding effort of the campaign ensured another limited-overs trophy in Auckland's cabinet for the winter.
Having sent Canterbury in to bat in the Ford Trophy final on Eden Park's outer oval, 139 was never going to be enough. Although things got a touch sticky near the end, Auckland were well worth their three-wicket win, having 24.5 overs up their sleeve.
It was fitting captain Gareth Hopkins stroked the winning runs. He finished unbeaten on 34, staying firm as others fired their wickets a shade too easily in a merry march to the target.
At 120 for four, it seemed under control, however Colin de Grandhomme sliced to third man, Donovan Grobbelaar fell to a fine one-handed catch to Peter Fulton at slip, Kyle Mills played on and at 131 for seven a calm head was required.
Step up test spinner Bruce Martin, not required with the ball in seam friendly conditions, and he nervelessly punched two fours through the offside, leaving Hopkins to wrap it up.
Auckland are loaded with strong shotmakers. Anaru Kitchen ensured a flying start, Craig Cachopa and Colin Munro hit boldly, if too briefly, but Canterbury's target was too small.
Hopkins wondered if Canterbury had got their pitch assessment right.
"I think they came out and thought they had to get 300-350-plus," he said, thinking back to the round robin game on the same ground earlier last month when 699 runs were scored.
"With our bowlers who can extract a bit of swing, bounce and pace I thought we could catch them by surprise."
As it happened, had Canterbury reached 180 it would have been highly competitive on a pitch where the seamers were always in the game and not a single spinner was used.
Neither Hopkins nor Canterbury skipper Andrew Ellis thought the toss crucial. Ellis was going to bat anyway.
When Rob Nicol was unluckily run out, the ball deflecting off bowler de Grandhomme's hand onto the stumps at the non-strikers' end it started a tumble, four wickets in 11 balls, to 61 for five. That included in-form Peter Fulton, who had roared to 42, taking 20 in one Chris Martin over.
Tom Latham did his best but fell to one of two fine catches, de Grandhomme in his case, and Munro's diving snare at mid wicket dismissed Shanan Stewart earlier.
Canterbury had negotiated the dicey first 10 overs well, before falling apart. There were some ordinary shots along the way too. Auckland's bowlers, the bit between their teeth, didn't let go.
A disappointed Ellis acknowledged Auckland's classy bowling attack are adept at utilising any help from the pitch. Auckland's late stumble came just a bit too late for Canterbury.
"They probably just got too close before they started losing the bulk of their wickets. If we'd got another 40, but that's what ifs," he said.
The win helped make up for last year's final, when tailender Michael Mason snatched victory away from Auckland at the death in New Plymouth. For Hopkins, Kitchen, Chris and Bruce Martin and Munro, survivors of that day, yesterday was some compensation.