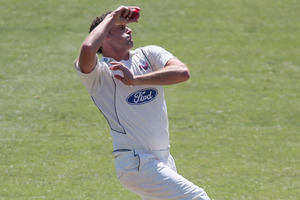 Question: Who'd be a bowler in the Ford Trophy? Answer: Auckland's Kyle Mills.
While most have marked out their run-ups with trepidation as runs abound, the veteran of 14 domestic seasons has been one of the competition's top performers with the ball; welcome news as New Zealand looks to bolster its ranks for June's Champions Trophy one-day tournament in England.
The averages and economy rates of bowling colleagues have ballooned with the volume of runs scored in sublime batting conditions. No longer is there shame in going for six runs an over in a 50-over innings.
Baked batting-friendly surfaces, two new balls from each end, better power-to-weight ratio bats, new fielding laws (which mean four rather five players outside the circle in non-powerplay overs) and jaded bowlers at season's end have all been cited as reasons for the glut of runs.
Mills' exceptional campaign has contributed to his side topping the table. Along with Canterbury's Matt Henry, Mills leads the wickets tally with 16 at 16.93 and has the best economy rate (4.47) for those who have bowled more than 17 overs.
"T20 has played a big part in the change," Mills says. "Batsmen are braver than, say, three years ago. Combine that with an extra hole in the outfield and short boundaries; that can be disheartening for bowlers. The way I see it, you just have to bowl dot balls.
"Batsmen are going to be naturally aggressive but I want them to try to hit my good balls for four. That's my whole mentality because they can't pull it off every time.
"Starting with a new ball at either end can help. Previously you'd get the ball as soft as you could over 50 overs but now it stays quite hard no matter what. The upside is you might get some early swing in certain conditions."
Runs have been plentiful. Take Wellington's Basin Reserve; in four one-day matches 2388 have been scored (an average of over 298.5 runs an innings) and just 55 of a possible 80 wickets taken. There was also the Northern Districts v Central Districts match at Hamilton's Seddon Park. CD made 417 for six with no ND bowler going for less than 7.44 runs an over.
The innings included New Zealand's highest domestic one-day score of 222 from Jamie How - the first time a local batsman has made a double century in a 50-over match at this level. How scored the runs in 138 balls at a strike rate of 160 which would not be out of place in a T20 game ... it's just that he kept batting. ND fell just 19 runs short, dismissed with seven balls to spare.
Showcasing the batting dominance have been 19 centuries compared to 15 last year. There have been just 12 four-wicket bags or better, compared to 17 the previous season. How says the new one-day fielding restrictions were key. They began when New Zealand played Sri Lanka last year and he says it has resulted in more outfield gaps between overs 11 and 40.
"It's forced teams to push a mid-off or mid-on up in the circle or bring third man or fine leg up; they might have to sacrifice a cover sweeper. Whatever they do, it means there is generally a risk-free boundary somewhere for most batsmen."
How says the strategy of 50-over cricket might change: "Bowlers have to attack more. They risk getting hit but it might be worth it. It's almost a case of scoring 300-plus or getting skittled. It potentially makes one-dayers more exciting because you almost need specialist batsmen and bowlers. Bits-and-pieces cricketers might become scarce."