England bowler is reaping benefits after initial reluctance to change technique.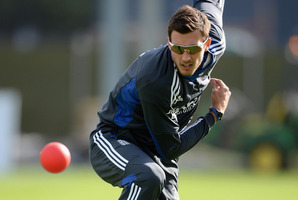 The long and the short of it is England fast bowler Steven Finn has cut the length of his run-up because he believes it will be beneficial.
Finn's new run-up made its debut during the one-day series against New Zealand and he plans to continue with it during the test series, which opens in Dunedin tomorrow.
It is only a difference of 5m or so and it is not like it has not been done before. Sir Richard Hadlee slashed the length of his run-up without losing any of his vigour through the crease.
But for a fast bowler to suddenly make changes to his run-up is a big step and the tall Finn was a little uneasy when it was first suggested.
The fact he kept crashing into the stumps during his delivery stride helped him decide to take the idea a little bit more seriously.
"It took me three years to agree to do it, I suppose," Finn said. "It is something I think...
will help me be more consistent, help me get more bounce and help me bowl for longer.
"It is something I've toyed with doing and I've used it [in] the nets and I haven't had the confidence to use it in a game. But the day before the Napier one-day game I was in the nets and I said to Sakes [England bowling coach David Saker] I'm going to do it tomorrow. He was a bit [taken] aback... and thankfully it worked.
"I still mark both run-ups out just in case but the short run-up seems to be working okay at the moment."
Finn was initially worried reducing his run-up from about 25m to just under 20m might have an impact on his pace or he might be at more risk of injury by trying to be too explosive through the crease.
"In reality it is more about the momentum I can gain towards the crease off the shorter run-up [which] is greater than off the longer run-up, because the temptation is to decelerate at the end of the longer run-up.
"I get better acceleration through the crease. It helps me go straighter through the crease, stand up taller and hopefully be more consistent, get more bounce and maintain my pace for longer periods."
Finn believes he is getting on top of his so-called "flying knee", when he hits the stumps with his leg while delivering the ball.
It happened once in both the ODI and T20 series on the ANZ international series tour. But it came to wider attention during England's home series against South Africa, where it was a persistent problem.
The MCC Committee has rubber-stamped law changes, effective in October, which will see a delivery no-balled if the bowler disturbs the stumps while in his delivery stride.
"Hopefully, it won't happen again. It hasn't happened in training... and it is important that off the shorter run I do maintain the pace because I think it is the deceleration which makes me get that close to the stumps."