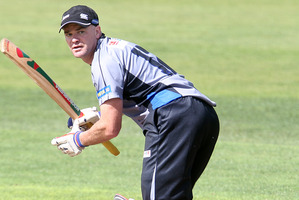 Picture the year 1862. The New Zealand Wars are in full swing, French chemist Louis Pasteur has invented 'pasteurisation' to prevent food spoiling prematurely and WG Grace has become a teenager.
Only four of the current 18 English cricket counties - Kent, Nottinghamshire, Surrey and Sussex - had been officially formed. It is also the year Grafton United Cricket Club was formed.
It would be nearly 60 years before it was known by that name but the origins are traced to the evening of September 18 when some of Auckland's best cricketers gathered at John Varty's Queen St booksellers. By meeting's close, the United Cricket Club had been formed, with Varty as its first vice-president, and a paddock in Newmarket, made available by James Dilworth, as its first ground. The 30 men who joined the venture already belonged to the existing Auckland, Newmarket, Parnell, and West End clubs or were soldiers from the Auckland garrison.
Next weekend, GUCC will celebrate its sesquicentennial with a book launch, gala dinner and Twenty20 match featuring a host of former New Zealand players.
GUCC now calls Victoria Park and Cox's Bay Reserve their home in central Auckland. From those early days, the club has produced an eclectic mix, linked by a love of cricket and, for the most part, a love of discussing each Saturday's play over a pie and a refreshing drink in the clubrooms.
The club has long been at the forefront of the Auckland game. Since the 1970s, New Zealand representatives such as Mark Burgess, Phil and Matt Horne, Willie Watson, Lou Vincent and Andre Adams have featured in the premier side.
The Horne brothers, Vincent and Adams are also expected to play for a Grafton Greats XI in a T20 match at Victoria Park next Sunday. They and a number of club stalwarts will play what has been dubbed a New Zealand Legends XI, with each team member having played internationally. The team includes Dion Nash, Dipak Patel, Bryan Young and Murphy Su'a. Nash, who reignited his cricket career two seasons ago with Grafton in the T20 realm, is also guest speaker at the gala dinner.
Andrew Alderson joined Grafton United Cricket Club in 1998 as part of The Ewen Chatfields XI. He remains one of a select group of bowlers in the club's history to be hit over the four-lane motorway flyover at Victoria Park.