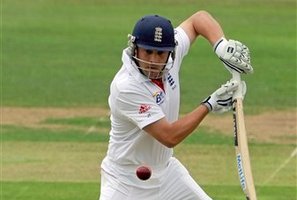 The irony will be thick in the air if England's Jonathan Trott and Steve Finn play leading roles in the one-day and tests series - as both helped gain their international spurs with cricket spells in this country.
The New Zealand connection for English players is well established. Former England captain Andrew Strauss saved his international career by signing with Northern Districts ahead of the last tour, in 2007-08.
Dropped for England's Sri Lanka tour after a lean home series against India, Strauss responded with a match-winning 177 in the third test in Napier. He was never dropped again on his way to captaining England to the top of the world rankings.
"I worked hard to regain form and to be in the country when the team arrived. I found the cricket very competitive. The players were probably a bit younger than those on the English county circuit but no less ambitious. Some of the guys I played with impressed, like Kane Williamson and BJ Watling, who have since come through the system. The ND set-up made me welcome.
It was one of my great life experiences.
"There tended to be more moisture in the wickets than England, so they seamed early, but using the Kookaburra balls (which tended not to seam as much as the UK Duke ball) meant things flattened out later in the day.
"The test wickets were slightly different - a bit more resilient - but a lot was determined by atmospheric conditions. Our players can expect more seam and swing movement than in Australia."
Trott (38 tests, 54 ODIs) and James Anderson (77 tests, 164 ODIs) have played for Otago and Auckland respectively. Trott spent the summer of 2005-06 in Dunedin, while Anderson inadvertently created controversy for Auckland when he was drafted into their four-day line-up for a solitary match before excelling in the 2007-08 test series. England won 2-1 with Anderson only playing in the victories.
Finn (17 tests and 30 ODIs) and Chris Woakes (eight ODIs) have had more recent New Zealand experiences. The 1.98m Finn tested Plunket Shield batsmen with his steepling height last season, while Woakes toiled with little success for Wellington before Christmas.
Anderson's swing bowling was effective last time in New Zealand where he took eight wickets in two tests at 35.37, including seven in the win at the Basin Reserve. He is now fifth on the England test wicket-taking list with 288 wickets at 30.39 in 77 tests. Strauss expects him to play a pivotal role in the series.
"He is one of the best swing bowlers - if not the best - in the world. He's hard to read and can move the ball both ways. He has a very good record versus New Zealand (27 wickets at 24.07). He was one of the key reasons we won, in combination with Ryan Sidebottom.
"Finn is probably a seam rather than a swing bowler and (Stuart) Broad is a swing bowler who uses his height (1.96m) to his advantage."
Former New Zealand batsman Craig Cumming saw Finn and Trott at close quarters during their time at Otago and says Finn benefitted hugely: "Steve shone despite playing on four of the flattest pitches in the world, so he'll be aware of factors like the wind and what to expect from the surfaces.
"Steve taught us a lot about attitude and he was a heck of a bowler with his height. I found him awful to face. I did so in the nets once and swore I wouldn't do it again with the sort of awkward bounce he gets. He split Jamie How's helmet (in a match at Lincoln). He also hustled Peter Fulton when we played Canterbury (at Rangiora)."
Cumming says Trott has become a world-class player since then-Otago coach Mike Hesson brought him to Dunedin in 2005-06. Trott topped the one-day averages and posted 275 runs at 39.28 in four first-class games. A second visit with the England Lions in 2008-09 saw him top the first-class and one-day averages. His father, Ian, is premier coach at Auckland's Parnell club.
Cumming says: "Jonathan knows New Zealand well and used his time as a springboard to the England side. He was a guy we quickly realised was ambitious, driven and not afraid to get into a battle. It hasn't surprised me he has succeeded in the international arena because there's little that rattles him."
Trott spoke to the Herald on Sunday in 2011 when he was dominating the Ashes series in Australia. There was clearly a respect for New Zealand cricket and also Hesson, who has since become national coach.
"I really rated Mike Hesson as a coach. He helped me when I got there. He didn't impose himself heavily on you or try to curb your cricketing flair.
"I said I wanted to take responsibility as the overseas player by being as professional as possible. There wasn't much going on in Dunedin when the students were out of town, so I spent hours in the Edgar Centre with the bowling machine.
"It was a chance to get away on my own. I'd recommend anyone to do that as a way of advancing their career."
Woakes features in all three England squads. He played three HRV Cup matches and two Plunket Shield matches for Wellington this summer but struggled to penetrate while going for too many runs. However, the 23-year-old has a first class average of 25.56 from 73 matches, so cannot be discounted.