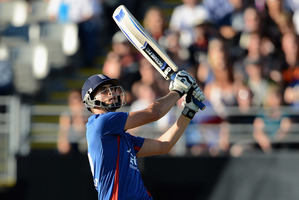 Big-hitting England allrounder Luke Wright put a different spin on New Zealand's postage stamp outfields yesterday - their contribution to the entertainment factor.
England hit 15 of the 23 sixes struck in their 40-run win in the opening T20 of the ANZ international series at Eden Park.
While the shape of the ground means the boundaries are little more than a 60m dink at each end, and therefore an unfunny sideshow as far as the bowlers are concerned, Wright took a positive view.
"For the crowds to see high scoring games is quite exciting," he said.
"Sometimes when 120 plays 120 on a bad wicket or massive outfields, it's not as entertaining. If you see fours and sixes, that's what people come to watch."
As for Eden Park's peculiarities, he voiced the "same for both sides" argument, which is undeniable, adding that "it's just about adapting to what it is".
The second T20 is at Hamilton's Seddon Park tomorrow night.
South African opener Richard Levi made a mess of that ground's size with his thunderous 117 not out off 51 balls last February. Expect more fireworks given the missile-launchers batsmen use these days.
There is a similar size problem at Napier's McLean Park - its short boundaries are square, rather than straight - and the only ground with a good, roomy outfield is Wellington's Basin Reserve, a pure cricket oval.
All players spout the "it is what it is" line. It boils down to batsmen's abilities to utilise those sections of the outfield, and the bowlers' avoiding having their figures unnecessarily blow out for the same reason.
Wright led the way as England adapted far better on Saturday night. His 42 off 20 balls included four dingers into the crowd, set the tempo and his batting chums cashed in.
Of England's 15 sixes - the third best in the short game's short history - nine were deposited in the arc between long on and long off. That is, England were able, through their own skill and batting smarts, to maximise the ground's opportunities.
New Zealand managed five of their eight in that zone.
Both teams will be back at Eden Park for an ODI on February 23, and again for the third and final test from March 22.
So strap in for top-edged sixes or gentle, well-timed pushes - as shown by England opener Michael Lumb on Saturday - which look destined for deep mid on but finish several rows back.
"It adds a different dimension," New Zealand coach Mike Hesson said.
"It's difficult from a bowling point of view, but it is our biggest ground, so we are going to play a lot of games there and have to become a lot more expert than we were on Saturday."
Only fast bowler Mitchell McClenaghan escaped with decent figures, one for 29 off his four overs. No one else conceded less than 10 an over. Offspinner Nathan McCullum suffered most with one-third of England's sixes off him.
Most sixes in a T20 international
24 India (13) v New Zealand (11), Christchurch, February 2009
24 Australia (16) v India (8), Barbados, May 2010
23 South Africa (17) v England (6), Centurion, November 2009
23 England (15) v New Zealand (8), Eden Park, February 2013