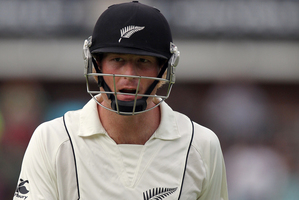 There is an urban legend among players from the mid-1990s that a national coach stood in front the team before they took to the field and urged them not to lose by too much.
It's easy to laugh at that and say "how dreadful", but over the last few years, I can sort of see where this supposedly mythical coach was coming from. There was not much faith in the team he had and public expectation was low, so a decent fighting loss would have been a win in a way.
So what do we expect from our team in this English series? For me, that's a hard question to answer. I mean, what is acceptable?
We know that we can compete in the short forms but do the Black Caps have to win those series? Then, how will the test results flavour the series in general?
What is more important? Is it right to place all the emphasis and importance on the forms that the team is best at and has the most chance of winning - the limited over games? Or, given the convention that test cricket is the most important form, does that carry the weighting?
It's probably a tough schedule from this perspective because the test series comes last. It is the crescendo of the summer. Unlike in South Africa, they won't have the luxury of ODIs to soften the blow should they revert to form in the tests.
So, on my rationale, the tests become vitally important to the success of this tour and the public relations boost this team needs. But is it foolish to pin my hopes on something we're least accomplished at?
The good news is that they can lose every test, closely, and still come out okay. A drawn test would be great but one win would make the pain go away.
I believe the T20s and ODIs will be 2-1 affairs. Whether that scoreline is to England or to us, I don't care too much and can't really predict either. I do know 2-1 to England will be tolerable if, and only if, there is consistent fight shown in the test series. However, the goodwill of a 2-1 result to New Zealand in the short forms will be eradicated should they get three hidings in the tests.
So now start to worry because I am a believer that T20 and ODI cricket, the way ODI cricket is played now, is doing little for our players' test games. Martin Guptill, Brendon McCullum, James Franklin, Ross Taylor, Kane Williamson, BJ Watling and Trent Boult are key men in the ODI and T20s but are important cogs in the test team, too.
Guptill and McCullum have technical issues to iron out, as does Williamson around off stump - but they have a main diet of T20s and ODIs to get ready for the tests.
Taylor just needs batting but how much of that will he get in the shorter forms? Watling is going well in tests but I pray he doesn't lose his longer form rhythm.
But that's life. I sure as heck can't pull these guys out of the slog-and-bash for my own selfish test cricket infatuation.