Captain poised to move to middle order against England but his numbers make him top pick to open.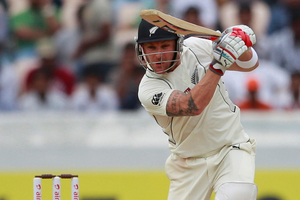 New Zealand captain Brendon McCullum is poised for a shift to the middle order for the England test series.
When the two-test beating in South Africa ended, national coach and selector Mike Hesson made it clear he had reservations on whether opening was the best role for McCullum in the test setup.
Every position would be under discussion before the first test of the ANZ international series in Dunedin, starting on March 6.
But there is a dilemma for Hesson and national selection manager Kim Littlejohn; McCullum's average as an opener is 35.77, slightly above his overall average in 72 tests. Those numbers make him the leading candidate to go in first.
In South Africa early last month, McCullum's role was to blunt the hosts' potent new ball attack. He battled hard, made a half century in the first test at Cape Town, but it was clear that playing an anchor role was not the best use of his batting talents.
Now it seems a move to No 5 is in the pipeline for the skipper.
"There's every chance McCullum may bat at No 5," Littlejohn said.
"Mike has some pretty strong views about where he believes Brendon is best suited. We've had some preliminary discussions, nothing is locked and loaded but it's definitely under consideration."
In 10 innings in that position, McCullum averages 26. He hasn't batted there since Brisbane in November, 2008.
A middle-order of Kane Williamson, the returning Ross Taylor, McCullum, Dean Brownlie and wicketkeeper BJ Watling at No 7 looks as good as it could get, in the continued self-imposed absence of Jesse Ryder.
Williamson, for all his troubles in South Africa, scored a century three tests ago in Sri Lanka; Brownlie made his maiden test ton at Cape Town; Watling was the pick of the batsmen in South Africa and world No 8-ranked Taylor's average of 43.57 is comfortably the best among the country's batting contenders.
McCullum moving would create another dilemma: what to do at the top of the order. Moving McCullum's finger into one hole of a leaky wall leaves another one unprotected.
Martin Guptill is having major red ball troubles, but has some credit remaining; Peter Fulton was lined up for the role in South Africa before getting injured, and his past three innings for Canterbury since returning are 59, 94 and 52.
The 34-year-old's last tests were just over three years ago against Pakistan, batting in the middle order, where he was found out by the top-class, but now disgraced, Mohammad Asif, Umar Gul and Mohammad Amir.
But his 709 Plunket Shield runs at 64 this season have him second on aggregates behind only Central Districts' Carl Cachopa.
Hesson was adamant in South Africa that Watling would not go back to the top of the order.
Littlejohn confirmed Wellington's Luke Ronchi is under consideration - which would suggest revisiting the gritty, technically sound Watling's role - although Ronchi's international experience for Australia was in the one-day formats.
"We do have problems at No 1 and 2 and we've got to tidy those up," Littlejohn said. "The underlying thing is to get stability."
The test squad is due to be named on February 20.