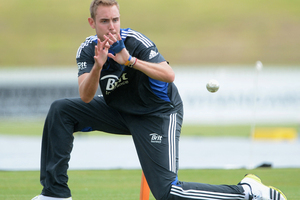 The winterless north? Not today, and right on cue for the start of England's tour.
Farmers will be delighted but the footing was greasy for the bowlers and when a stronger bout of drizzle arrived almost halfway through the New Zealand XI's promising innings, that was that.
The home side got as far as 70 for one off 9.1 overs and the teams will go at it again both tomorrow and Wednesday in afternoon games.
Tomorrow was to be a day off in between games, but England are keen to play. The forecast for tomorrow is not promising, but Wednesday is far more encouraging.
There was enough time for Hamish Rutherford to give a glimpse of the form he's been in for Otago in the last few months.
The lefthander - batting the other way around from his father, former test captain Ken - struck the ball crisply and produced the two shots of the heavily-truncated contest.
First he eased England's captain Stuart Broad through extra cover then he re-acquainted himself with his Otago team mate of last season, tall seamer Steven Finn, and bounced him for six over point.
Rutherford is the sole newcomer named in the New Zealand T20 squad to start their three-game rubber as part of the ANZ international series at Eden Park on Saturday.
Today, getting a decent, if reasonably brief look at several of the bowlers who'll comprise England's attack at the weekend won't hurt.
Anton Devcich and Tom Latham had their moments, in between some close calls, and their stand was worth 47 off 36 balls when the rain arrived, but not much should be read into today's activities.
England are finding their feet, the New Zealand XI, loaded with players itching to prove a point or two, didn't get the chance.
** England have called seamer James Harris to New Zealand for the T20 series as like-for-like cover for Stuart Meaker, who is battling a neck injury.
Harris, a 22-year-old from Glamorgan, whose nicknames include Rolf, boom boom, is already the ODI squad for the second of the three three-game legs of the New Zealand trip.