Rutherford only new cap for England series as Taylor and Butler make returns from the wilderness.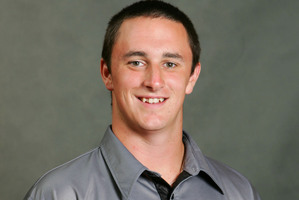 A few weeks ago former New Zealand captain Ken Rutherford was asked how his son Hamish's cricket was progressing.
"Yeah, he's doing all right," was the low-key reaction of a proud but unpushy dad to the 23-year-old lefthander's batting for his cherished Otago.
But the South African-based Rutherford senior would doubtless be quietly chuffed with his boy's selection yesterday for New Zealand's T20 ANZ series against England.
Rutherford is the sole new cap in the 13-man squad for the three-game series starting at Eden Park next Saturday.
The ODI squad of 13 has no new faces, although Andrew Ellis returns from injury, while leading batsman Ross Taylor makes his anticipated return in both groups.
Rutherford's bracing style was a key part in Otago's terrific HRV Cup triumph, 300 runs at a strike rate of 140. Couple that with the wide view that he's a fast-riser in the domestic game.
Then throw in 162 off 187 balls against Northern Districts at Queenstown yesterday in a Plunket Shield match and you have a mix of distinct promise, talent across the different versions, and current form to commend him.
"There's a space available at the top of the order and we'd like to see how he goes," national selection manager Kim Littlejohn said yesterday.
The other interesting, and thoroughly justified, selection yesterday was 31-year-old Ian Butler, back for the T20 series.
His form is impressive. Talk to batsmen around the country and his name keeps popping up.
Last required by the national team in December 2010 against Pakistan - his 15th T20 international, which have produced 20 wickets at 19.8 - Butler probably thought his time had come and gone.
However, the departure of Jacob Oram leaves a gap for a seamer who hits a big ball around No 8-9 in the order.
The fit-again Ellis, the injured Corey Anderson and the not-required-this-time Jimmy Neesham are others in that category.
Seven players are missing from the squads in South Africa either side of New Year - Anderson, recovering from a thumb fracture, Neesham, Rob Nicol, Peter Fulton, Doug Bracewell, Michael Bates and Neil Wagner.
Some may not be sighted again, although the squads have been trimmed from the 15 in South Africa to 13 at home. Bracewell, certainly, and Wagner possibly will be in the test frame.
The Champions Trophy 50-over tournament in England in June looms large in Littlejohn and coach Mike Hesson's thinking, as does the World Cup in 2015. So the net is being cast wide.
Five names in the two squads will play England for a New Zealand XI in their two leadup games in Whangarei on Monday and Wednesday - Rutherford, Ellis, Taylor, Butler and Auckland's Colin Munro.
One name missing from yesterday's announcement is Tim Southee. The leader of the seam attack is still recovering from a damaged left thumb, injured before Christmas.
There had been a thought he would be ready to return for the ODI series. Not so, said Littlejohn, although if the Northern Districts bowler makes rapid progress in the coming days he could be added to the squad.
Southee has four games pencilled in to prepare for the first test, starting in Dunedin on March 6, although he may play only some of them.
There are Plunket Shield games against Wellington in Whangarei from February 14-17, against Central Districts in Nelson from February 20-23, and Ford Trophy matches against CD in Nelson on February 26 and Auckland in Hamilton two days later.
How they line up
New Zealand limited-overs squads to play England
T20
Brendon McCullum (c), Martin Guptill, Hamish Rutherford, Ross Taylor, James Franklin, Grant Elliott, Colin Munro, Nathan McCullum, Andrew Ellis, Ian Butler, Ronnie Hira, Trent Boult, Mitch McClenaghan.
ODI
Brendon McCullum (c), Guptill, Kane Williamson, Taylor, BJ Watling, Franklin, Elliott, Munro, Ellis, Nathan McCullum, Kyle Mills, Boult, McClenaghan.