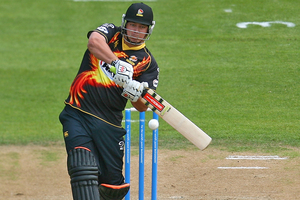 One is set to line-up in the starting blocks, one has been scratched while the availability of two other Black Caps to meet England during their tour here will depend on how they recover from their respective injuries.
Four key New Zealand cricketers missed the recent trip to South Africa and only Ross Taylor seems likely to be a sure-fire selection to meet England in their upcoming visit to New Zealand.
Jesse Ryder confirmed today that he won't make himself available for the Black Caps for the English tour while the status of Daniel Vettori (Achilles) and Tim Southee (thumb) remains up in the air.
England play the Black Caps in three test matches, one-dayers and Twenty20 internationals during a seven-week tour of New Zealand that starts early next month.
Ryder and his manager Aaron Klee met with New Zealand coach Mike Hesson, manager Mike Sandle and New Zealand Cricket Players' Association chief executive Heath Mills in Wellington today (tues) as all parties looked at their future plans for the 28-year-old.
The left-hander is on a self-imposed exile from the New Zealand side in a bid to get his personal issues in order and Mills said Ryder wouldn't rush his return.
"They listened to Jesse and where he's at and obviously he updated them on where he's at with his personal goals and mapped him out a bit of a plan for the next three to four months and what he wants to focus on to address," Mills said.
"[Hesson and Sandle] are very keen to get him understanding the team environment and what's happening with the team culture and there was an invitation to spend some time with the team when they're in Wellington, I think that's going to happen. So it was a really positive meeting.
"I think the most important thing is Jesse is now making decisions about what happens to him where as in the past a lot of people have made decisions for Jesse; when he plays, when he trains, what he does and how he does it. In the last six to seven months what I've really noticed with him is a growing maturity and taking responsibility for his decision making and he of all people knows when he's ready or not."
Ryder's decision not to return to the Black Caps means he will continue to play domestic cricket for Wellington this season.
Taylor returned to the cricket field when he played for Central Districts in Plunket Shield action last week, which marked his first appearance with the willow since he took a break from the game following the fallout over the New Zealand captaincy saga in December.
He will have to repair his relationship with Hesson but both parties seem keen to clear the air in the near future.
Vettori has been sidelined since last year's Twenty20 World Cup and has suffered a couple of setbacks on the road back to full fitness.
A New Zealand Cricket spokeswoman said it was too early to confirm whether Vettori could be pencilled in for the first test against England that gets underway in Dunedin on March 6.
"Basically he's just dealing with the Achilles, recovering from that and conditioning's all going well and the aim is to have him back playing in March," the spokeswoman said.
"We'll just see at that time what he's been able to do in the build-up and the level that would be right but that's the aim; to have him back playing in March and then it would be determined at what level."
Pace bowler Southee's return date is also unclear but he has had the cast and stitches removed from his injured thumb, the spokeswoman said.
Southee is scheduled to meet with the surgeon in two weeks, which will provide more information on when he may be able to play again.