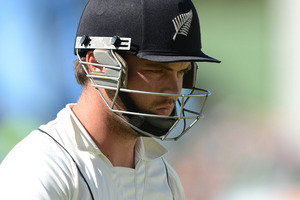 A former Black Caps coach has labelled the side's disastrous two-match test series loss to South Africa a "tour from hell" and says coach Mike Hesson "looks out of his depth".
Overnight the Brendon McCullum-led Black Caps were bowled out for 211 in their second innings to lose the second test by an innings and 193 runs, a week after their innings and 27-run defeat at Cape Town.
The latest loss meant New Zealand have now lost seven of their last eight tests and have won just 12 of their 44 matches in all forms of the game going back to the start of last year.
McCullum, captaining the side for his first test series, refused to call the end of the second test the darkest day of his international career, however did acknowledge it was "incredibly disappointing".
David Trist, who coached the side from 1999 to 2001, slammed the performances of the players and was critical of the team's management.
"It's been a tour from hell, in more ways than one," he told Radio New Zealand's Summer Report. "Nothing has gone right really, it's been a wake-up call for New Zealand Cricket with their style and process leading into it operationally, making decisions that have impacted very negatively on the team.
"The reality is when you have Vettori, Southee, Taylor out of a New Zealand side...against one of the top sides...you are going to get blitzed.
"When five wickets fell for eight runs, to finish a test match in four days - both times in four days - I don't have to tell you much more."
Trist believed the batsman were under-prepared for the tour, with New Zealand's flat decks not preparing the side for the South African wickets.
"They were rudderless at the top in terms of a new coach who looks out of his depth to some degree. A management side around him that probably needs to be questioned ... and a captain that was caught in the perfect storm," he told Radio New Zealand.
Trist said the way management had dealt with Jesse Ryder and Ross Taylor had caused "huge resentment" among fans and had negatively impacted results on the field.
"There has to be some serious questions asked by some independent people who are prepared to speak out and make sure this kind of tour would not happen again."
He said the pressure faced by the team was no excuse for their woeful performances.
"The players will need counselling in some cases and they'll need serious coaching by some serious people who understand what is required when you're playing fast bowling."
Trist, who coached New Zealand to victory in the 2000 ICC Knockout Trophy, said the England side, who the Black Caps face in New Zealand this summer, will take heart from the Black Caps' recent lack of form.
- nzherald.co.nz