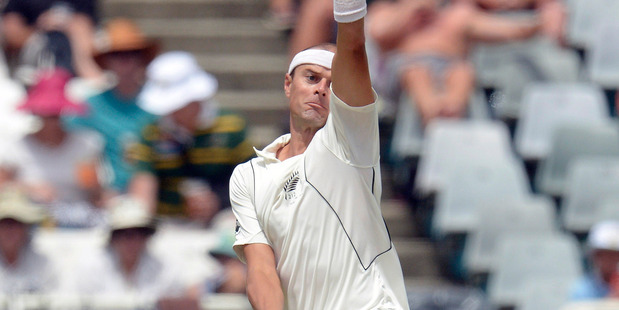 Life is not fair for Chris Martin. He has been a trouper for New Zealand cricket and deserves better treatment than he is currently getting.
Leaving Martin out of this test was unfair and disrespectful. Given Martin is a test specialist nowadays and often goes into a series a little underdone, the Black Caps selectors should know he tends to hit his straps in the second and third test - if we were good enough to warrant one.
Martin improved steadily during the first test and turned in the most respectable figures by the end of his only bowling innings. He only got the one innings to bowl in because he was let down by his batsmen. Yet on the back of all this, he became the only genuine unforced change to the side.
I'm excited to see what Neil Wagner can do and understand that Trent Boult and Doug Bracewell are the future but, regardless of what they do in this test, based on what I saw from Martin in the last test, he would have been a safe option. However, "safe" does not appear to be what the management is interested in.
Martin is a reliable, even-headed character who does not take his duty for New Zealand lightly nor for granted - traits that right now should serve as an on-field remainder to many.
Martin has provided consistency and success for 12 years. He has sat in a dressing-room and watched others who've achieved far less than him become rich off the game. He has not been rewarded as he should for his excellence.
Anyone with a knowledge of his game would have shown him the respect he's earned and worked the bowling unit for this test around him rather than giving him the "thanks but no thanks" omission.
Yes, I understand re-building is required to move our test game out of the doldrums but every good construction needs some solid foundations.
Sure, Martin's career is waning but, based on what I've seen, retirement is more appropriate to this stalwart of our test attacks than dumping.
Just one more point to ponder. Chris Martin has no aptitude for batting whatsoever. He simply can't bat and no matter how hard he tries, he will forever be useless. However, do you ever see him back off to leg and swing wildly? No, you don't.
He tries his best to stay in line as best he can and tries not to give it away, knowing all along it is a lost cause. Every time he walks to the middle he pretty much risks his life such is his inability to protect himself. Yet never does he take the soft option.
Just a bit of respect, please, for a guy who's exhibited all the traits we fans and critics have been asking for in this team for the last five years.