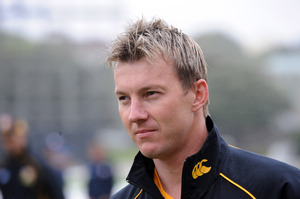 Australian cricketer Brett Lee is flying to Dunedin to play a solitary game for the Volts, but Otago chief executive Ross Dykes hopes cynics will not decry the move.
Lee's surprise recruitment was only confirmed last night, hours after Otago sealed a home Twenty20 final with a seventh straight win.
The 36-year-old pace bowler, a veteran of 76 tests and 221 one-day internationals, will arrive in Dunedin on Monday night and play for Otago against Canterbury at the University Oval on Tuesday.
It will mean Lee will be eligible to play for the Volts should they win the HRV Cup and qualify for the lucrative Champions League.
That might not sit well with the purists, or those who question the fairness of a local player having to give up his spot to a temporary hired gun, but Dykes believes it is a sound move.
"I can understand the odd raised eyebrow but we think this is a good compromise," Dykes said.
"Brett's a good bloke and he will give us some more firepower if we make the Champions League.
"It will be this game only. We've made it clear the local players, who have done so well for us, deserve to play in the final."
Lee's recruitment had been discussed with the Otago players and they gave it their endorsement, Dykes said.
Lee, whose Sydney Sixers have had a poor season in Australia, was good friends with Otago import Ryan ten Doeschate.
Otago loses Black Caps Jimmy Neesham and Nathan McCullum for the rest of the Twenty20 competition, so it seems likely Lee's arrival will not push out impressive young fast bowlers Jacob Duffy or James Fuller.
The Volts were the first New Zealand representatives at the Champions League when they were soundly beaten in 2009.
Otago's win over Wellington, and Canterbury's win over Northern, yesterday guaranteed the Volts would host the Twenty20 final on Sunday, January 20.