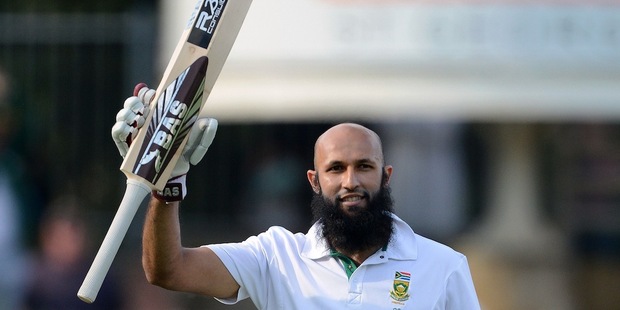 South Africa took an iron grip on the second test on a warm day at St George's Park.
At stumps, Hashim Amla's 19th test hundred the rock on which the innings was constructed, South Africa were 325 for four.
Three half centuries from captain Graeme Smith, AB de Villiers and Faf du Plessis backed Amla to effectively shut New Zealand out of the match in terms of a winning chance to square the series.
New Zealand were seeking respect as a minimum expectation out of this test, coming a week after the embarrassment in the first match of the series at Cape Town.
They worked hard on a relatively benign pitch with some variable bounce, had good periods but were unable to maintain the pressure. Too often the valve would be released. That said, 29-year-old Amla was outstanding in his 67th test.
By the end of the day,he had reached 106 off 211 balls with eight fours, his fourth hundred against New Zealand, while du Plessis was on 69, their unbroken stand worth 102.
New Zealand weren't unhappy to be fielding first. Memories of the first morning collapse in Cape Town remain vivid.
By lunch, South Africa were 99 for one and Smith had been clunked a solid blow on his helmet by a Doug Bracewell bouncer.
Smith and Jacques Kallis were dismissed in the second session, Smith touching a catch down the leg side off recalled left-armer Neil Wagner, Kallis driving loosely at Bracewell to give keeper BJ Watling a second catch.
However Amla ploughed ahead and had a reliable partner in de Villiers who completed 6000 test runs today.
The pair added 85 for the fourth wicket before de Villiers, upon reaching his 31st test 50 after tea, surprisingly chipped a catch to mid wicket from offspinner Jeetan Patel.
Amla's driving was strong and he worked the ball effectively to the onside.
He had one slice of luck and it was critical.
At 48, with South Africa 152 for three, he cut hard at Trent Boult and the usually reliable Kane Williamson spilled a sharp chance to his left at gully.
Du Plessis may have had a life at 42 when a ball from Boult in the first over with the second new ball flew past him down the leg side.
New Zealand appealed, it was turned down but they opted not to call for a referral. Television replays suggested there might have been a brush of ball on glove.
It didn't unsettle du Plessis however, as shortly after he pulled Bracewell hard for six to mid wicket to reach his half century.
Of the bowlers, Wagner was energetic and unlucky, three times having Smith edge him past the slips. Fellow left armer Boult's line was generally tidy, Bracewell toiled hard but produced a mixed bag while Patel, under pressure to hold his place after an ordinary effort in Cape Town, found some bounce and beat the bat occasionally in a useful containing effort.
New Zealand seamer Neil Wagner had a chins-up philosophy looking ahead to the second day.
''We've got to fight back and be ruthless," Pretoria-born Wagner said.
''If we can come back and get two quick wickets we're back in it. We know if our batters can go out and do a good job and get us back in the game then it will all even up.
''If we let it go a strong team like South Africa will capitalize."
By contrast, South African batsman AB de Villiers felt New Zealand bowled well for chunks of the day, but tipped his team could all but shut the door on the tourists if they hunker down and continue to bat well.
''I thought New Zealand bowled really well most of the day. It wasn't a flawless effort from them, neither from us. But we all speak about those moments in the ebb and flow of the game and I thought we dominated more than them and gives us a tick at the end of the day and in a strong position.
''We want to of bat as long as possible. If we can bat them out of the game in the first innings it will put a lot of pressure on them," he said.
''They've got a lot of things to think about if we got 500 plus."