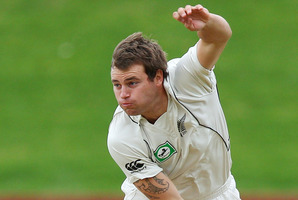 South Africa's batsmen were poised to cash in, but New Zealand had no luck in the opening session of the second test at St George's Park.
At lunch the hosts were 99 for one, off 27 overs after winning the toss.
New Zealand ideally wanted at least a second wicket in the first session, but at least it was an even contest, albeit threatening to drift away from the tourists, but in sharp contrast to the first two hours at Cape Town last week.
New Zealand had spoken of the need to start well, to put some pressure on South Africa, and to reintroduce some pride into their performance after the first test pratfall at Newlands when they were bowled over for 45 in less than 20 overs.
So step up Doug Bracewell. With the first ball of his second over, the forthright seamer struck South African captain Graeme Smith a fierce blow on his helmet, behind the right ear.
Smith, who had turned his head away from the lifter, took a couple of minutes to recover, squatting on his haunches as he regathered his wits.
It was a statement of intent, and served its purpose.
Smith looked shaky, surviving one lbw appeal from Bracewell on six.
The appeal failed because of a clear overstepping of the front crease, a problem which has troubled Bracewell.
Throughout the session Smith was clearly not his usual assertive self, and was fortunate to get to lunch on 40.
If all wasn't well with the lefthander it wasn't great outside the ground either.
A ticket system crash left spectators queuing for 50 minutes to get into the ground.
At the toss -New Zealand having decided left arm spinner Bruce Martin would be out of the 12 named yesterday - the tourists were probably happy with the outcome.
Smith chose to bat; New Zealand skipper Brendon McCullum said he would have fielded first.
Nightmare visions of his batsmen being put under the hammer again by South Africa's top class quicks may have flashed through his mind.
But there was also a practical reason he'd have opted to field. There was a breeze from the south west, usually regarded as a bat-first, drying breeze.
But New Zealand left armer Trent Boult relishes a breeze to help his inswing to the righthanders, and he locked onto a tidy line.
Cape Town century-maker Alviro Petersen looked secure, unfurling one superb off drive from Bracewell which rocketed to the boundary.
But he departed to the final ball of the 10th over after trying to hook Bracewell from outside his off stump.
The ball flew straight to Jeetan Patel running in at fine leg.
Neil Wagner, recalled for his third test, was crunched through the covers by Smith, although Hashim Amla miscued one shot which flew just wide of mid on.
Wagner was unlucky, Smith edging wide three times of the slips to the fence. In between, he tumbled to the turf on his follow through four times.
Offspinner Patel was on for the 16th over straight after the drinks break, and was immediately swept hard for four by Amla, who was looking solid on 32.