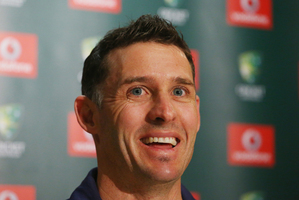 Will Mr Cricket be replaced by a young Master Cricket?
It's a question that no doubt flickered through Mike Hussey's mind this week as he prepared to bat for the last time in a baggy green cap. No one in test cricket history has had to wait so long to crack the big time, and then been as successful as Hussey.
Yet his replacement in Australia's middle order may well be a young gun who enjoys a comparatively easy ride into test cricket.
The most likely option is Usman Khawaja, 26, capped six times already, who was on injury standby for captain Michael Clarke ahead of this week's third test against Sri Lanka in Sydney, but ultimately not needed.
Also in the frame for the coming tour to India and then back-to-back Ashes series are four uncapped players - Victorian all-rounder Glenn Maxwell, 24, Tasmanian Alex Doolan, 27, South Australian Callum Ferguson, 28, and Australian T20 captain George Bailey, 30.
Hussey's younger brother David is considered an outside chance, too, despite having reached the grand old cricketing age of 35. If David gets the nod, he would make even his own brother's test debut as a 30-year-old look premature.
Mike Hussey's apprenticeship lasted longer than most careers.
He played 11 first-class seasons and scored more than 15,000 runs before being selected for his first test.
But the wait was worth it.
Hussey has since scored over 6000 test runs, including 19 centuries, at an average of over 51.
The late bloomer par excellence has provided the middle-order ballast that has steadied the Australian ship time after time.
Yesterday a rescue job was not required, coming to the crease through a Sri Lankan guard of honour with Australia cruising at 195-3 in response to the visitor's first-innings 294. He worked his way sedately to 25 before he was run out by his captain, Michael Clarke.
Hussey's shock decision to make Sydney his last test at the age of 37 took even his teammates by surprise.
Former captain Steve Waugh believes Hussey will be harder to replace than Ricky Ponting, and spin great Shane Warne says experience should rule the day, plumping for brother David.
Unlike Ponting, who endured a string of poor performances before calling it quits, Hussey has averaged 79 this summer, including three centuries. Waugh believes selectors would have forecast Ponting's departure, but not Hussey's.
"I'm sure the selectors probably banked on having Hussey there (in England)," Waugh said. (He's) the experienced campaigner in the middle order who holds it all together, shows the young guys the rites of passage in the Australian cricket team."
Warne believes it's crucial to call in another hardened professional for the looming tours of India and England.
"There's no point in picking two or three young blokes for the sake of it because they're young.
"They've still got to earn their spot," said Warne.
"You can't replace 100-test-match players and 50-test-match players. Change takes time. (David Hussey) will definitely be one of the chances. He's got 41 first-class hundreds. He's a quality player."
Mike Hussey put sport in perspective by deciding to spend more time with his young family.
He will miss the comradeship of the dressing room, one of his favourite parts of the game, and triumphant moments like Australia's third successive World Cup in 2007 and the 5-0 Ashes sweep at home in 2006-07.
But some things he won't miss: "The real sick feeling in your stomach before you go out to bat in a test match, the constant time away from home, the travel, training, hotels, airports and all that sort of stuff - it does wear you down after a while."
The fans will miss him, and so will his teammates.
"Everything Huss has done throughout his career as an Australian cricketer represents the baggy green cap," said captain Michael Clarke.
"He had to work so hard to earn the baggy green cap. He wears it with pride every time he takes the field."
Former fast bowling great Glenn McGrath called Hussey "the ultimate pro", saying: "You knew what you were going to get day in, day out - 100 per cent every day."
The Mr Cricket nickname will now go into retirement, though some preferred the one that preceded it - Kermit.
"He had legs up to his armpits," said former test spinner Stuart MacGill, who gave the same name to his dog.
"Great batsman, great dog."
- AAP