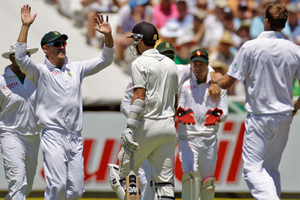 New Zealand's first innings total of 45 in the first test against South Africa on Wednesday night was the lowest score in test cricket since 1974. To find out just how bad it was APNZ's Daniel Richardson and Kris Shannon quizzed four former players for their views on the carnage.
John Morrison, played 17 tests and 18 one-day internationals, 1974-1983.
"I watched through till lunchtime [Cape Town time] and that was about enough. I choked on my Chateau Mouton Rothschild and went to bed.
"It was very poor. Sure, I'll give the South Africans their due. They've got a wonderful seam attack and Philander, Steyn and Morkel all bowled very well, particularly Philander. But the batting effort was pathetic to be quite frank. I think the thing that disturbed me the most was that it gave me the impression that the old white flag went up and there didn't seem to be any desperate effort to stay in. I know that bowling attack would have tested anyone in the world but, nonetheless, 45, we were out of our depth. It's as simple as that.''
Warren Lees, played 21 tests and 31 one-day internationals, 1976-1983. Coached the national side from 1990-1993.
"I can't believe how we could possibly win the toss and bat first. We are not there, but all the pundits said that it was definitely a bowl-first wicket. They [SA] were going to bowl first anyway and it's all very well saying 'lets take it to them, lets show them', but it's sort of like blind loyalty really. It was a bit foolish.
"Everyone's criticising Brendon McCullum for that, but I don't remember a captain ever deciding whether they were going to bat or bowl and not having some consultation with the coach and a couple of senior players. So there's a group of people who've made that decision. You can't blame one particular person, but surely the coach and captain are the ones who carry the can, but they must have discussed it with others as well.''
Mark Greatbatch, played 41 tests and 84 one-day internationals, 1988-1996. Coached the national side in 2010.
"It's pretty self-explanatory, isn't it? It's very bad, there's no doubt about that. Along with that, it's sad. Maybe some things are coming home to roost. Maybe it has to get worse before it gets better. It's disappointing and they were just inept. They were just not able to soak up the pressure. Technically, they were found wanting - they were on the move a lot and coming across the ball instead of into the ball.
"[South Africa] bowled pretty well, but that's test cricket. That's what it is - you're coming up against good sides and it's about competing and blunting them. When you get bowled out in under 20 overs it's no good. In test cricket you've got five days to fight and compete, so they do actually have a chance to turn it around a bit. But they've got a lot of work to do.''
Mark Richardson, played 38 tests and four one-day internationals, 2000-04.
"It wasn't flash. But what really upset me was once we were six or seven down we started slogging. It just looked gutless. We looked like when, say, King's College is dishing it out to Otahuhu College and one team has no idea how to play the game. It was just horrible to watch. I've been involved in teams that have been rolled over, but most of us had records or performances to speak of. It was a little more of the same old from this lot.
"It wasn't easy batting, but test match batting on the first morning a test is never easy. You expect it to be tough, you expect the odd ball to seam. But there's just still some technical issues that these players have failed to iron out. I can only put that down to the fact that they just don't spend enough time working on them.''
- APNZ