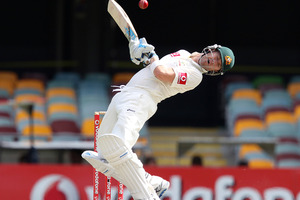 Australia captain and selector Michael Clarke put himself through a searching fitness test on Christmas Day but is yet to decide if he'll lead the side in today's Boxing Day clash with Sri Lanka.
Clarke suffered a hamstring injury during last week's first test in Hobart but has made steady improvement in recent days, including batting and fielding sessions at the MCG yesterday.
"It's improving every day," Clarke said. "I did a fair bit of running today in the indoor nets. A decision can't be made yet.
"I really need to wait and see how I pull up tomorrow morning.
"I'm still pretty positive I'll be right for [the test].
"I haven't run at 100 per cent but I've certainly built up over the last three days."
Young batsman Usman Khawaja, who has been out of the side for a year, is on standby for Clarke.
Paceman Jackson Bird will make his debut in place of injured quick Ben Hilfenhaus, while Mitchell Starc has been rested and his fellow left-armer Mitchell Johnson returns to the lineup.
Australia coach and selector Mickey Arthur says he'll give Clarke until the last minute to prove his fitness.
Clarke - the leading test run scorer for 2012 - has selectors weighing up the need to avoid pushing his body to breaking point with the Sydney test just around the corner on January 3.
With that in mind, selectors have already decided to rest in-form paceman Starc for the Melbourne test.
Tasmania's Bird, 26, will take the new ball on debut.
"It's nothing different to what I've done in first-class cricket. I've opened in probably 15 out of 17 games," Bird says.
"I'm definitely not going to try to do anything different.
"There's going to be a few more people there on Boxing Day, but that's something that I'm going to have to deal with."
Most of today's intrigue, however, will centre around the appearance of Clarke.
"If I was a betting man I'd bet on Michael Clarke leading the team out on Boxing Day," Arthur said. "We've got to be mindful as well, much like the Starc decision, as to the amount of important cricket we've got coming up.
"We've got to be intelligent with the decision we make.
"It will be a consultation between Michael and [team physio] Alex [Kountouris]. We'll give them right up until the last minute to make that decision."
Most test runs in a calendar year
Mohammad Yousuf (Pak): 1788 (2006)
Viv Richards (WI): 1710 (1976)
Graeme Smith (SA): 1656 (2008)
Sachin Tendulkar (India): 1562 (2010)
Ricky Ponting (Aus): 1544 (2005)
Ponting (Aus): 1503 (2003)
- AAP