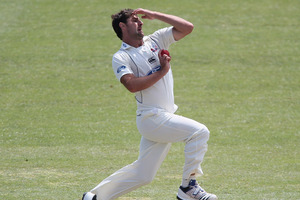 The old line about getting in first and putting runs on the board worked for Auckland at Eden Park last night. But only just.
Canterbury sent them in, and they reached 197 to set the visitors a daunting challenge.
But it was a challenge the southerners nearly met. They gave it a real lash but came up just short and Auckland won by eight runs to be two-from-two in their bid for a third consecutive HRV Cup title.
Canterbury have now lost all three of their games, and face a battle to get back in the hunt.
Canterbury needed 15 to win in the final over, bowled by veteran Andre Adams, and got six. Adams nabbed three wickets in those six balls to finish with four for 20.
It was a cracking contest on a terrific pitch, although the bowlers may not share that sentiment.
Auckland laid down a daunting marker; after 10 overs in their chase, Canterbury were five runs behind but two wickets better off, courtesy of clean hitting from Brad Cachopa, George Worker and Dean Brownlie.
Canterbury needed 80 off the last seven overs but when Colin de Grandhomme leaked 22 runs in the 15th over, it was 52 from five.
Worker departed in the 17th over for his highest T20 score, but 39 off the last three overs was do-able.
It came down to 28 off two before the gripping finale.
The last time Auckland played on the main oval, Barack Obama had been in his present job one month. It was December 27, 2008, the opponents in that 50-over game were also Canterbury, who won by three wickets with seven balls left.
The crowd numbered about 5500, but with Christmas breakups on, a better gauge of public interest in the venue may come next Friday night when Wellington - and Jesse Ryder - are in town.
The pitch had good bounce and the ball flew to the short boundaries, particularly when Auckland - or more particularly captain Gareth Hopkins and de Grandhomme - got into their stride.
They got nothing out of English import Phil Mustard, caught second ball very low at square leg by Worker in the opening over.
Hopkins battled expertly. He was inventive in his strokemaking, struck the ball sweetly, and was alert to any chance in reaching his third T20 half century. De Grandhomme combined brute power with deft placement en route to his first T20 50.
At one point the pair put on 39 in 13 balls. Hopkins went at 64 off 37 balls, de Grandhomme made 60 off 33.
By halftime, Auckland had gone one run past the total they amassed in beating Canterbury in last season's final, and second highest total of this season's competition.
Auckland are back on the outer oval on Boxing Day against Northern Districts. Canterbury play Otago in Timaru the following day.
Northern Districts lead the table on 12 points from four games. Wellington have 8 (3 games), Auckland 8 (2), Otago 4 (2), Central Districts 0 (2) and Canterbury 0 (3).