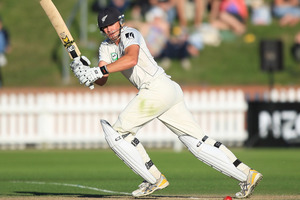 Peter Fulton is a walking, talking example that sheer weight of runs can still earn you a spot in the New Zealand cricket team, regardless of age.
At 33, many would have thought Fulton's international career was long behind him after he played his last game in a black cap at the end of 2009 when New Zealand suffered a heavy test defeat against Pakistan in Wellington.
Before that, Fulton had fashioned a decent one-day international record for New Zealand that yielded one century and eight 50s at an average of 32.53 from 49 appearances.
His test and Twenty20 numbers aren't flattering but he will get a chance to amend those in South Africa during the next month.
He was originally dumped from the national side after a string of low scores in all forms of the game as the selectors grew tired of his inconsistency.
But Fulton has been summoned as Ross Taylor's replacement at the top of the New Zealand batting order for the three Twenty20s and two tests in the Republic, following a bumper start to the summer with Canterbury.
He presented a compelling case for a recall in a game where runs are the most powerful currency. In his past three first-class games, he has had scores of 1, 68 not out, 79, 104, 102 and 108.
The laidback Cantabrian insists not a lot has changed recently, except a slight attitude adjustment.
"I guess I've probably put a little bit less pressure on myself in terms of getting back in the New Zealand team and just trying to enjoy my cricket and enjoy playing for Canterbury," Fulton said.
"It's probably ironic that what has helped me score a lot of runs and get back in the team was actually not worrying about playing for New Zealand."
Fulton stopped short of saying he served as an inspiration for the over thirtysomethings trying to earn a New Zealand recall - think Mathew Sinclair, Jamie How, Aaron Redmond and Michael Papps - but acknowledged it was nice to know age wasn't a barrier.
"I think it's just good in general that guys [like me] can get picked. Age is always going to be some sort of factor for selectors but I certainly don't feel like my age is an issue and I still feel like I've got a few years of cricket left in me yet."
Given Fulton is a specialist batsman who rarely makes an appearance at the bowling crease, it's conceivable he could play until 37 or 38 and this tour to South Africa could serve as a rebirth of sorts at the international level.
Fulton said he hadn't been given any indication from coach Mike Hesson on where he would bat in the test lineup but he has racked up plenty of runs as an opener at domestic level this summer.
"I have had some success there this year so I'm happy batting there but I've batted most positions for New Zealand as well so I'll just be happy if I can get a run in there at some stage" Fulton said.
Given the fallout over Ross Taylor's controversial sacking as skipper of the national side, it hardly seems like the ideal time to earn a recall, but Fulton said the off-field dramas wouldn't play a part in South Africa.
"I think most cricketers are pretty uncomplicated and they just want to get out there and play and I'm sure once we get over there and guys get into training and the games start all the guys will be just keen to get out there and play."
New Zealand open the tour on Wednesday with a warm-up game against South Africa A before the first Twenty20 international against the Proteas next Saturday morning.
- APNZ