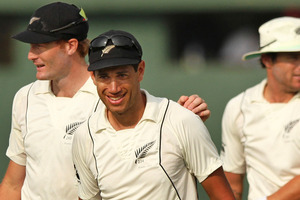 Even when they were good New Zealand still had the occasional howler.
Remember 74 all out, against Australia in an ODI in Wellington in 1982? Or 64 against Pakistan in Sharjah four years later?
Still, no one beat New Zealand in a test series at home from 1980 to 1989. Ten tests were won at home, just two lost. All comers were seen off, either comfortably or in a tight squeeze.
The Shame Game: Sport that lost its way from boardroom table to the fans
Overseas they still found winning series in Australia, England, Pakistan and India beyond them.
By common consent that decade was New Zealand's finest, although older timers will still aver the 1949 tourists to England have a case. They drew all four tests in England, although they were three-day affairs.
In 1946, New Zealand suffered their worst test loss, all out 42 and 54 against Australia at the Basin Reserve, a result which had decades-long repercussions with the Aussies condescending to send only B teams before granting New Zealand another crack in 1973.
The mid-1950s weren't flash. Six tests were lost on the bounce. In the 4-0 loss in 1958 to a powerful England side, five times out of nine completed innings, New Zealand made fewer than 100 runs; only once did they pass 200.
But how does the current era compare? Is this truly the worst test period New Zealand has experienced, Hobart last December and Colombo last week notwithstanding?
Consider that in the 1950s, New Zealand's best players had five first-class games a year - four until Northern Districts joined the Plunket Shield in the 1956-57 season.
They truly were amateurs in a game in which England were professionals and formidable in that period, the South Africans tough, hard competitors while India and Pakistan presented conditions as alien as could possibly be imagined.
In a sense, they had little chance and indeed probably punched above their weight.
Now New Zealand's players are paid professionals. They train and practise accordingly. Whether the methods and arrangements are ideal is, in this regard, beside the point. They are expected to perform to a consistently high international level.
That accusation could never be levelled at the present national side. Too often a high has been followed by unacceptable lows. Five straight losses before Colombo - albeit all away from home - is simply not on. It is not as if the West Indies, India and Sri Lanka are in halcyon periods right now.
On the fourth day of his first test in charge, against Pakistan in Hamilton, John Wright would have been peeking between his fingers as New Zealand lost all 10 wickets for 74 in 26 overs. That is just one example of batting wilting for no particular reason. Too often it has seemed to have no heart.
Examples? 10 for 100 against Sri Lanka in Wellington in 2006; nine for 65 against England at Napier two years later; 10 for 99 in 36 overs against Pakistan in 2009; 10 for 100 at Galle two weeks ago.
The bowling is different. By and large, New Zealand seem able to get the job done. Too often they could have been forgiven for glaring hard across the dressing room at those rated the country's best batsmen.
There has been a lack of combativeness about too much of the batting.
Whether the preparation has not been right - and sending a team to the West Indies four months ago without a single camp together, let alone a warm up match, was near unforgivable - or they've suffered a domino effect once things have gone wrong at the top, they have felt the scorn of the cricket public to a point where they must almost feel inured against the slings and arrows.
But do they feel the hurt? The players say they do. At times they have been embarrassed by what they've put up in the name of competitive test cricket. The Australians were laughing at Brisbane last November when James Pattinson, a lively new ball bowler, but scarcely Dennis Lillee, had New Zealand 28 for five on his debut.
But it is too simplistic to write it off as New Zealand being out of their depth. There have been enough situations in which they have produced top-drawer cricket to show the talent is there. The problem has been those periods haven't lasted long enough to win games and that suggests a mental hardness is lacking.
And their audience is losing patience, and interest. There was no media presence in Sri Lanka on the recent tour. Ditto in Zimbabwe last season. When you hear an acceptance of poor cricket as "here they go again" you truly are in trouble with your public.
There are technical and mental shortcomings and they lack the preparedness, or willingness, to stand tall game after game, and particularly when the going gets tough. "That's just the way he plays." Is there a lamer excuse for thoughtless batting?
So is this as bad as it's been? Purely in terms of talent, no.
But when you put all the ingredients together, know they are capable of more, look at their record and throw in the public apathy being directed their way on a scale unheard of before, probably yes.
Hobart proved yet another false dawn; New Zealand have the chance now, on the back of Colombo, to answer that charge in the most eloquent way.