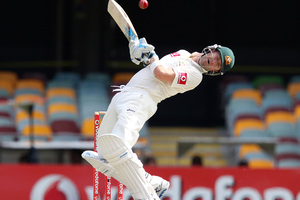 If ever Michael Clarke needed to be convinced it's time to move up an inconsistent Australian top order, his 20th test century proved it yesterday.
The in-form skipper underlined that he is his team's most assured and best batsman at present with a double-century that dug the home side out of deep trouble in the first test against South Africa.
Coming to the middle at 3-40 late on Sunday, Clarke and Ed Cowan combined for a record fourth-wicket partnership against South Africa, putting on 259 in almost six hours to power their team to safe ground.
They reached stumps at 487-4, Clarke not out 218 and Michael Hussey unbeaten on 86. They lead South Africa by 37 with a day remaining.
While Cowan, who notched his maiden century in his eighth test to cement his opening position, was the feelgood story, Clarke's eight-hour knock continued his brilliant 2012.
Since taking the captaincy from Ricky Ponting 15 months ago, he has registered six test tons, including his unbeaten 329 against India in the New Year's test at the SCG.
While Clarke has averaged 60-plus in that time at No5, the No3 position, occupied by Rob Quiney in Brisbane, has been a major concern for Australia.
South African batting great Barry Richards is one who believes Clarke is too classy a player to be protected at third-drop and he should promote himself.
-AAP