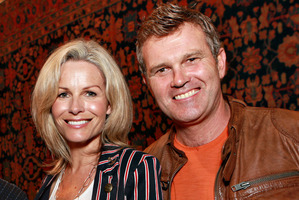 Former New Zealand cricket captain Martin Crowe has been diagnosed with lymphoma.
The 50-year-old and his family received the diagnosis at the end of last week.
They are waiting for Crowe's prognosis, which is understood to be hopeful.
Family friend Louise Henderson, who is also Crowe's manager, said the former cricketer, his wife - former Miss Universe Lorraine Downes - his daughter and two stepchildren had issues to confront over the next couple of weeks.
"The diagnosis is very new. The family is still in shock and obviously dealing with the understanding that life as they know it for the foreseeable future is different."
Crowe played his first test at 19, and was quickly tagged "best young batsman in the world".
In 1985, he was a Wisden Cricketer of the Year.
He represented NZ in cricket from 1982 until 1995, hitting 17 test centuries, including a top score of 299.
Since then, Crowe has been a commentator and producer with Sky TV, and a familiar figure on television commercials for a hair loss treatment.
Lymphoma, which affects the blood, is the sixth most common cancer in the world. Nearly 300 New Zealanders a year die from it, and it is slightly more common in men than women.