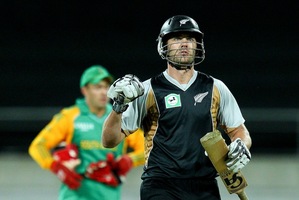 Finding "positives", to use the modern-day parlance, for the New Zealand cricket team has recently been a task for the most creative of advertising agencies.
New Zealand's game at international level is at a low ebb after series losses in almost all formats since the arrival of South Africa last summer through to tours of the West Indies and India. The "series" exception was the one-run win in a recent one-off T20 international against India, after the first match of two was rained out.
Yet on the eve of New Zealand's World Twenty20 opener against Bangladesh, fans have witnessed some innovative thinking that should be applauded.
James Franklin looks set to open the batting to counteract a different spin, the left-arm orthodox variety of Bangladeshi bowlers Shakib Al Hasan, Abdur Razzak and Elias Sunny. Al Hasan and Razzak troubled New Zealand when the teams last met in the 4-0 one-day international series rout by Bangladesh at home in late 2010.
New Zealand must win at least one of its World T20 pool matches to progress to the Super 8 stage. Pool D is being tipped as the toughest; New Zealand also meet Pakistan on Sunday night.
The theory is Franklin, who has opened regularly and with considerable success at English county level in T20, will be better able to play the spin coming back into his pads. As a left-hander he also breaks up the right-right combination of Rob Nicol and Martin Guptill.
Coach Mike Hesson and captain Ross Taylor are effectively looking to create a Franklin-stein Monster for opposition teams.
Ideally he will be able to hit straight over the top or through the field in the first six overs with just two fielders allowed outside the 30m circle. Franklin's technique appeals; he tends to play in the 'V' between mid-wicket and cover more than most.
Less cross-bat shots should lead to less wickets in the early stages of the innings, although Franklin can take a while to get into his work. However, in his one T20 international opening performance, Franklin hit 60 off 37 balls against Zimbabwe earlier this year. He made 12 off 11 balls against South Africa in the World T20 warm-up, while Nicol hit 37 from 36 in the middle order.
The move presents Franklin with the perfect opportunity to translate his county and Indian Premier League form to the biggest stage. He has often threatened with the bat and on occasion with the ball for New Zealand during brief periods in what is now an 11-year international career across all formats. His tight death bowling spell helped defeat India recently.
Meanwhile, Nicol is understood to be over the worst of his stomach bug, as are fellow affected players Tim Southee and Daniel Vettori.
Nicol remains useful to the team as a spin bowling all-rounder but might be better suited down the order, given he has scored just 108 runs opening in his last six T20 international outings at a strike rate of 107 and average of 18.
Andrew Alderson flew to the Twenty20 World Cup in Sri Lanka courtesy of Emirates airline.