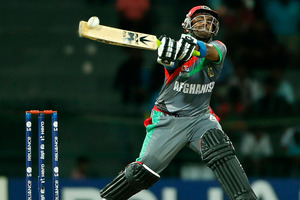 There are 18 varieties of banana in Sri Lanka. The fruit is an integral part of the economy and of growing significance in a series of cottage industries.
What this means for the World T20, in which several smaller cricketing teams are lining up in the group stages against the big beasts of cricket, is that there are abundant skins to slip up on. Among the cognoscenti, there is a feeling of inevitability that it will happen.
Australia went into their Group A match against Ireland yesterday in a deeply apprehensive state. Their coach, Micky Arthur, admitted that he would sleep much better after the match than before it.
In the event, his concern was overdone if not misplaced. Ireland, who were briefly above Australia in the ICC world rankings last month, rather let themselves down when confronted by their opponents' firepower and they were defeated by seven wickets with all of 29 balls unused.
The loss of a wicket to the first ball of the match - their captain, William Porterfield - and of three more before the eighth over made a genuinely competitive total unattainable. In the event, they did well to detain Australia as long as they did in making the 124 runs needed to win.
Having started with such authority, Australia simply had too much nous for their opponents. Now ranked ninth in the world, one place above Ireland in a table of 11, they were never imperilled despite some batting carelessness as the winning line approached.
A partnership of 52 from 44 balls between the O'Brien brothers, Kevin and Niall, repaired some but not all the early damage for Ireland. They have long been a properly robust unit of cricketers, neither cowed nor cocky but able to hold their own.
Eight of their number played for English counties in the recent season, including all their top six. They will be annoyed to have given quite such a moderate account of themselves. Shane Watson, who opened the bowling and took 3 for 26, also chipped in with the bat, bashing his way to 51 from 31 balls which included three sixes.
India159-5Afghanistan136India win by 23 runsAfghanistan, the tournament darlings, played exactly as might have been expected last night in their opening match of the World Twenty20. They were constantly entertaining, boundlessly enthusiastic and simply not quite proficient enough to overcome India.
In going down by 23 runs they did some splendid things but their shortcomings cost them. Four dropped catches and a litany of fielding mistakes are usually insurmountable obstacles against any opponents and India are not any opponents. A target of 160 was well beyond even their high-octane sluggers against a prosaic attack.
India will be glad to have this match behind them, however, as will England tomorrow night. There was little in India's display to suggest that they will go far in this competition but they went T20 crazy across the nation after their side, initially reluctant participants, won the inaugural World Twenty20 and the complexion of world cricket was changed forever.
If they are to progress far, their powerful batsmen will be instrumental. Many of them were jaded last night and it took a 39-ball half-century from Virat Kohli to ensure the board ticked over after a poor start.
With five overs gone, Afghanistan had both openers out, courtesy of their left-arm fast bowler Shapoor Zadran, the Logar Express. But in rapid succession Yuvraj Singh, Suresh Raina (twice) and Kohli were dropped. Two were return catches to the bowler, all should have been snaffled.
The ground fielding grew worse: there were 14 wides and MS Dhoni buckled his swash at the end, finishing the innings with a four and a six.
Afghanistan needed a rapid, wicket-free start. They never quite managed either despite (and because of) Mohammad Shahzad's whirling blade. Yuvraj took three wickets including two in two balls.
A late flourish from Mohammad Nabi in scoring 31 from 17 balls kept interest if not hope alive. Afghanistan were disappointed but did enough for England to know that nothing but their A game will suffice.
- Independent