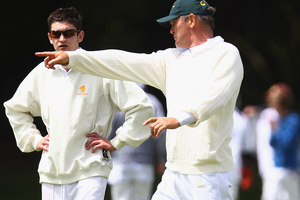 Martin Crowe has criticised the coaching given to New Zealand's batsman during the past decade and believes they haven't been given the right tools to score test hundreds.
The former New Zealand captain noted the methods derived to help past and present Black Caps hadn't enabled them to produce big scores on the international stage in his latest column for website espncricinfo.com.
In his opinion piece, Crowe, who scored a New Zealand-best 17 test hundreds in 77 matches, considered why Kiwi batsmen have struggled to produce three-figure scores since his last international appearance in 1995.
"During this time, in 1998, the New Zealand board set up an academy in Lincoln. Coaches and professors from Victoria were flown in. But any hope that the next generation would be given assistance and expertise on how to post world-class scores soon fell apart.
It was an outstanding disaster," he wrote.
"Biomechanics became the new buzzword for New Zealand's finest batting talent. The theory passed on was that hand speed and power efficiency 'through the shot' was everything. Out the window went footwork, body position, soft hands and hitting the ball late below the eyes. In came heavier bats, high backlifts, minimal footwork and going hard at the ball.
"The net result was faster strike rates and shorter stays at the crease. For a whole decade this theory was passed down to the next line of coaches, and from them to young players, who were too frightened to disregard the instructions thrust at them."
Crowe, who has previously worked as a television commentator and offered batting advice to a handful of test players, noted New Zealand's green seaming wickets didn't help players either.
"To try to understand why New Zealand have underachieved in consistently scoring test hundreds, it needs to be acknowledged that this is a rugby-mad country, and mostly all major grounds and stadiums are geared for the All Blacks to win under lights.
"Even with the advent of portable pitches, batting in New Zealand has always been regarded a challenge for most batsmen - hosts and visitors alike - as the pitches, coupled with English-type weather, have made run scoring rather difficult at times. Ask Garry Sobers, Viv Richards and Sachin Tendulkar, to name a few over the decades, and they will confirm this.
"Some would say that the hosts should be used to the conditions and ought to be able to develop the appropriate game to prosper. I agree, and my personal adjustment was to shorten my backlift significantly so I could adjust better to the inconsistent bounce and movement, swing or seam. By shortening my backlift I scored less quickly but managed to stay at the crease longer. This later also helped combat reverse swing."
The soon-to-be 50-year-old, who made a brief unsuccessful comeback in Auckland club cricket last season, said players needed to develop a personal hunger to find their way to three figures, something he tried to instil in Stephen Fleming and Nathan Astle during his final stint with New Zealand.
"Because of my personal drive and obsession with scoring test hundreds through the 1980s, as New Zealand got better and better, I felt responsible for passing the baton to new players when we entered the 1990s, post-Hadlee, and so I approached Stephen Fleming and Nathan Astle with confidence that they would carry it on.
"Instead, I struck an odd resistance. The new breed simply didn't feel the need to set the goal of scoring hundreds for the team. Of course, they wanted to score them, but they didn't want that 'extra pressure' of being seen to seek them. Hadlee and I had talked openly and publicly about setting and chasing goals; the downside was that it seemed to turn others off. These new players chose to play for the team and the occasion, to be ultimate team men and not seek individual milestones. It sounded admirable, and it was, but on the other hand the team needed big hundreds and it needed them consistently."
Crowe pointed out the abysmal rate at which New Zealand batsmen have failed to post centuries during the past 15 years and said it was the major reason the Black Caps have struggled to become a force in test cricket.
"That was then, this is now. New Zealand Cricket still hasn't settled on a basic batting method to adopt. The proper coaching methods must be reintroduced and embraced at all levels, first-class cricket must be reinstated as the priority format, and batsmen need to clearly set the goal that hundreds matter," Crowe wrote.
- APNZ