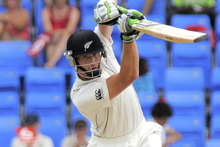 New Zealand opener Martin Guptill might be having trouble turning his 50s in to 100s but he believes he is getting on top of West Indies spinner Sunil Narine.
The tricky tweaker has spun a web around the New Zealanders throughout their tour of the West Indies and the United States and has taken wickets a plenty, while also being remarkably miserly in the limited-overs contests.
Narine picked up 13 wickets in five one-dayers and seven scalps in two Twenty20s, while he snared up his maiden five-wicket haul in test cricket when he took 5-132 in New Zealand's first innings of the first test at the Sir Vivian Richards Stadium in Antigua.
With a variety of deliveries and metronomic control given his chosen bowling style, Narine has bamboozled international batsmen since he came on to the scene late last year.
Guptill, 25, was dismissed in the third session of day four today (NZT) for 67 when Narine got a delivery to bounce sharply in to the right-hander's gloves and Assad Fudadin took the catch close in.
It marked the second time in the test Guptill had passed 50 but failed to kick on to a century but he said he felt more confident facing Narine.
"You've got to watch the ball hard and be able to pick him," Guptill said.
"But I thought myself and Brendon [McCullum] played him pretty well and there was a few balls that kicked up a bit and I got out to one of them.
"I guess it's just watching the ball hard and watching what his hand's doing. You can pick up a couple of little keys with his deliveries. If you can pick those up then you are going to go well in picking him.
"It is getting easier. We've played him a lot this series. You keep on watching his hand. It's going to get easier the more you face him."
Guptill's inability to convert his starts into centuries is nearing a point where it may be of concern for the Aucklander.
He has passed 50 12 times in test cricket but has only kicked on to a century twice, when he made 189 against Bangladesh in February 2010 and 109 against Zimbabwe last November.
His first-innings score of 97 was important to get the Kiwis off to a solid start on day one of the test but he threw his wicket away with a wild stroke across the line to the bowling of Narine.
McCullum was another Kiwi batsman guilty of not making the most of being set at the crease when he played on a delivery from Kemar Roach and he was sent back to the pavilion with 84 next to his name.
New Zealand closed day four on 199-3 with Ross Taylor (11) and Neil Wagner (four) at the crease, which equated to a lead of 28 runs, with seven second-innings wickets in hand.
Earlier in the day's play, the West Indies were bowled out for 522 in their first innings; Chris Martin finished with 3-134 for New Zealand.
The second test starts in Jamaica on Friday (NZT).
- APNZ
By Daniel Richardson @danrichardson21

Email

Daniel