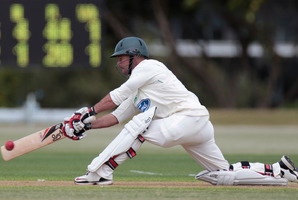 Kruger van Wyk. File photo / Richard Robinson
Recent history suggests New Zealand's first test against the West Indies, starting in Antigua on Thursday, will be a low-scoring affair that will engender a result.
And wicket-keeper Kruger van Wyk thinks, for his side to finish on the right side of that result, it is imperative the Black Caps knuckle down and bat for four sessions.
It's something New Zealand place an emphasis on but have struggled with in recent times, and their two turns in the middle during the drawn warm-up match at the same venue were hardly indicative of that aim being achieved.
But if the batsmen can show some staying power at the crease, their efforts will probably be rewarded with a fourth test triumph in eight attempts.
There have been only four draws in the last 13 tests the West Indies have hosted, as low scores have shortened matches and ensured one significant endeavour with the willow can determine the outcome.
The average score from 51 innings in those 13 tests was 253, and there were just four occasions when a team totalled more than 400.
Batsmen from Australia, India, Pakistan, South Africa and Bangladesh all found the low and slow West Indian pitches just as difficult as their hosts, so one innings of application from the Black Caps should be enough to secure victory.
''[Batting four sessions] is something we always speak about doing and we're pretty determined to do,'' van Wyk said.
"Our preparation is geared towards a game plan of looking to bat four sessions - how we're going to approach it and the different techniques against their quicks and their spin bowling.''
While New Zealand have struggled in their Caribbean conditions so far on the tour, van Wyk said they were well aware of what it will take to turn around their fortunes in the two-test series.
"If you look at the West Indies-Australia series (in April), guys had to be extremely patient and scoring rates were pretty low.
``You just need to keep batting, keep facing balls and accept that, with every delivery, things will get easier and you'll feel more comfortable with the conditions.''
Van Wyk was one of the few New Zealand batsmen to show an ability to institute that plan in this week's draw with the West Indies Cricket Board XI, with his 34 and match-saving 38 not out proving his team's second-highest score in each innings.
After more than four hours spent in the middle at Sir Viv Richard Stadium, the 32-year-old has a fair idea of what to expect out of the pitch come Thursday morning.
"It will be a fighting wicket. It's probably not going to be a wicket conducive to beautiful, flowing strokes or those sorts of things - it's going to be a war of attrition.''
With BJ Watling and Trent Boult both ruled out, the only selection dilemma for New Zealand is whether to stick with spinner Tarun Nethula or opt for the pace of Tim Southee or Doug Bracewell.
Nethula was the only spinner from either side to experience little success in the warm-up match, taking one wicket from 20 expensive overs. The hosts' three-strong contingent all found conditions to their liking, as did Dan Vettori who responded with 6-48.
But the Black Caps will be tempted to hand Nethula a debut, given the importance spin could play as the match progresses and a deteriorating pitch comes into play.
"I suspect the wicket will be what we're expecting'' van Wyk said. "It will be low and slow, will break up and will turn.''
- APNZ