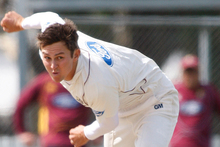 New Zealand cricketers BJ Watling and Trent Boult have been ruled out of the first test against the West Indies starting on Thursday (NZT).
The pair have been ruled out with quadriceps strains, meaning the XI for the match at Antigua will be selected from the remaining fit 13 players on tour.
Despite the poor form of the Black Caps - they lost both Twenty20 matches, slumped to a 4-1 defeat in the One Day Internationals, and scrapped to a draw against a West Indies President's XI - wicketkeeper-batsman Kruger van Wyk said the mood in the camp was still positive.
"We haven't been putting results on the board, we accept that, but we don't like it,'' he said. "It's something that we definitely want to turn around. We're extremely determined to turn things around and get a good result in the test matches. It's the cream of our tour, it's something everyone has been looking forward to. We feel we're growing as a test team.
"There's a quiet focus about the team and everyone is really hungry to do well. We know we're up against a really quality side. We respect that, but we're looking forward to that and we want to be challenged against some of the best sides in the world. If there's something we want to get out of the next two weeks it's that we want a result against the West Indies.''
Van Wyk, who has played three tests, is one of the few players carrying form into the match following his 34 and unbeaten 38 in the President's XI warm-up match, which was played on the same pitch to be used for the first test.
- APNZ