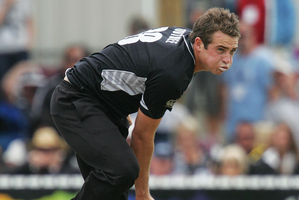 No McCullum, no Vettori, no Ryder, no chance?
Not so for New Zealand as they begin their first bilateral tour of the West Indies for 10 years.
Leave the tests for now. The absence of Dan Vettori for the limited-overs section of the trip is nothing new. He hasn't played a game for his country in other than test cricket for a year - two in the case of T20s.
Jesse Ryder's absence was flagged weeks ago before the squad was named. While his talent isn't in question, his form was wonky, his head not in the right space and he's trying to sort himself out.
This is not to say he won't be back, but no Ryder is no new problem for New Zealand.
Brendon McCullum is slightly different. He is being rested until the two tests late in the tour. New Zealand have a busy time of it for the next 12 months.
McCullum will be heavily involved.
If you think he'll fancy putting his feet up for an extra three weeks, you'd be wrong. He is a competitive character with a fierce desire to win. Doing his bit, rather than watching from afar is his thing.
This tour is a chance to look at options. It is a trip of opportunities for several players.
McCullum's absence will thrust more importance on a handful of players at, or near, the top of the order.
Rob Nicol made a decent fist of his limited-overs opportunities last season against Zimbabwe and South Africa, but was clearly out of his depth in the South African tests.
His card has been marked in that respect, but he retains some short-form credit.
Daniel Flynn has the ability to be more than a first-class grafter, and gets his one-day runs at some pace.
Kane Williamson and Martin Guptill are the two batsmen who have had plenty of off-season cricket, with contracts at Gloucestershire and Derbyshire respectively.
As the only batsmen who have been in regular work outside the IPL for the past three months, they have important contributions to make.
Spinners Ronnie Hira and Tarun Nethula get their opportunities to build on a taste of international action last summer.
If three spinners are deemed important for the world T20, Hira is sitting pretty. Nethula is interesting and gives the ball a rip, but his absence from the group for the two games this weekend makes him an unlikely consideration for the world event.
Wicketkeeper-batsman BJ Watling lost his test spot to Kruger van Wyk in unfortunate circumstances - a hip injury flaring up the morning before the first test against South Africa at Dunedin. He gets his chance to keep his name firmly in the selection plot before his rival pitches up for the tests.
Seamer Tim Southee lost his way against South Africa last summer and was gone after the first test. He's over a shin complaint, but has to prove himself in the shorter forms before regaining his test place.
The facilities at Central Broward Regional Park in Lauderhill, about 20km from Miami are much improved from the basic offering two years ago when New Zealand opened their alliance with United States Cricket with a couple of games against Sri Lanka.
There is plenty of expatriate interest from West Indians, Indians and Pakistanis, according to assistant coach Trent Woodhill, and a crowd of well over 10,000 is expected for both games. That's likely to relate more to seeing West Indian entertainers Chris Gayle, Kieron Pollard and Dwayne Bravo back in action than watching New Zealand.
Still, it's one of the last chances to prepare for the world T20 in mid-September, so best fill the boots.
"We've got six games left (before the world championship) so it's important to get our structures and planning right," Woodhill said.
Whatever your view of T20, this weekend will set a tone for the rest of the tour.
"We know we have a challenge on our hands and we're playing in a foreign territory. I sense an edge to the guys, which hopefully sets us up for the rest of the tour."
NZ SCHEDULE IN THE WEST INDIES
Sunday: First T20, Florida
Monday: Second T20, Florida
Friday: First ODI, Jamaica
July 8: Second ODI, Jamaica
July 12: Third ODI, St Kitts
July 15: Fourth ODI, St Kitts
July 17: Fifth ODI, St Kitts
July 21-23: Three-day warmup, Antigua
July 26-30: First test, Antigua
Aug 3-7: Second test, Jamaica