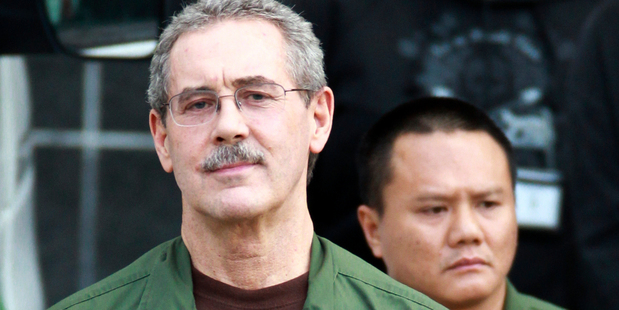 Allen Stanford's brief, ill-starred time in the cricket sun is long gone.
The Texan crook, who organised the US$20 million winner-take-all game between England and the so-called Stanford Superstars in Antigua in November 2008, was found guilty of massive fraud in March, and this week received his legal comeuppance.
In that typically understated way of American justice, Stanford received 110 years in the slammer.
As prosecutor William Stellmach put it: "This is a man utterly without remorse. He treated his victims like roadkill."
Those with long memories will recall 2008 and the sight of some of the game's great names fawning at Stanford's side when he helicoptered into Lord's with, allegedly, his US$20 million in a large chest.
There's more than a few people rattling round the game at a high level who should be looking for a corner to hide whenever Stanford's name is mentioned.
Another development in the T20 world has emerged from the International Cricket Council.
The game's governing body has ruled out inserting a window in its scheduling calendar for the Indian Premier League.
The issue of clashes between the Indian-run league - which usually takes place from around early April until late May - and international cricket commitments will go nowhere fast.
This year it has been the West Indies suffering, with several of its best players committed to IPL franchises and opting for that instead of both a home series against Australia and playing the test series in England. The results in England were dreadfully predictable with the fans short-changed and no one particularly interested.
New Zealand tour England next year, but with New Zealand Cricket having a five-week window for its contracted players to cash in at the IPL built into its arrangements with the Players' Association, means none of them will miss any international cricket on that tour.
Other countries aren't as fortunate in their dealings with their boards. In one sense, the ICC's decision is understandable.
They fear precedents and the idea of putting a two-month window into the Future Tours Programme, which is the international cricket calendar probably looks to them like the thin end of an extremely fat wedge.
However the IPL - whatever you think of it and it's place in the game - is five years old, the big daddy of T20 leagues and going nowhere soon. It attracts some of the game's finest players, who aren't off to Mumbai, Chennai and Pune for their health.
Each year there is at least one country hurt by the loss of its leading players.
So perhaps the ICC would be better to take it case by case.
Set aside a window, get it out of the way without harming a national team's interests. It could save a pile of discomfort for at least one country every year.
And having a break from international cricket for two months is no bad thing.
The ICC would have done it with gritted teeth but surely there is a case to do it on a trial basis and see how it plays out.
The ICC might just have been surprised.