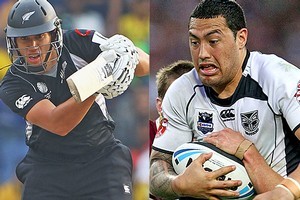 Auckland sports fans are in for a rare treat next March, when the Black Caps and the Warriors play at Eden Park on consecutive days.
The double-header, on the weekend on March 3-4, will see the Black Caps take on South Africa in a day-nighter on Saturday, followed by the Warriors opening their NRL campaign with a grand final rematch against Manly the next afternoon.
"It's going to be a fantastic weekend at Eden Park, a chance for sports fans to get out to the park to see both the Black Caps and the Warriors in the space of 24 hours," Warriors chief executive Wayne Scurrah said.
Staging two major sporting fixtures from different codes back-to-back will pose a significant logistical undertaking at Eden Park. The cricket one-dayer is likely to finish about 10pm, before the field will be morphed into rugby league mode fewer than 14 hours later when the Junior Warriors face Manly in the Toyota Cup curtain-raiser.
The field will have to be marked out for rugby league purposes, posts will need to be erected and advertising signs around the ground's perimeter will have to be replaced. A crane will lift the cricket block out with new turf being dropped in, while work will also be required to reconfigure some of the stadium's seating.
But New Zealand Cricket chief executive Justin Vaughan said the opportunity for such a sporting feast made the task worthwhile.
"The Black Caps playing South Africa is world-class cricket entertainment. Double-heading with the opening game of the NRL at the same ground on the same weekend offers a rare treat for sports fans."
A discounted ticket offer will go on sale before Christmas for the double-header, with Upper East Stand seats available for a single price to see both matches of $40 for an adult and $20 for a child.
Eden Park double-header:
Saturday, March 3 - One-day international: Black Caps v South Africa, 2.00pm.
Sunday, March 4 - NRL: Warriors v Manly, 2.00pm.
- APNZ