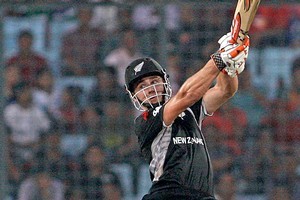 If the Black Caps are ever to win a cricket World Cup or find themselves at the top of the test-match rankings, there's a good chance Kane Williamson will have played a major a hand in it.
He might be the smallest member of the side, but the 21-year-old is one of the most talented batsmen to emerge in New Zealand for some time.
With a first-class debut at 17, a century in his first test match at the age of 20 and a stint as stand-in captain of county side Gloucestershire during the recent off-season, the baby-faced rookie is one of the most important members of the Black Caps' batting order.
Whether it be at No 3 in tests or the middle order in the shorter formats, nothing seems to bother laid back Williamson.
New Zealand boast their most potent top five in years, with Martin Guptill, Brendon McCullum, Ross Taylor and Jesse Ryder also in the mix, and, despite being the young gun among a few senior pros, the Northern Districts right-hander has had no trouble fitting in.
On the recent tour to Zimbabwe, Williamson smashed the second-fastest one-day hundred by a Kiwi with a 69-ball effort, made an unbeaten 86 in the tour match against Zimbabwe A and racked up 68 and 49 in the one-off test.
Taylor says New Zealand have finally found a man at first drop who they can rely on in tests.
"He enjoys batting at three and he had an outstanding series as well," the skipper says. "He's got a big future in the game."
Already, Williamson averages a shade under 38 from his first six tests and a touch above the same figure from his 18 one-day internationals, including two centuries. There's a widespread belief he will only improve those numbers.
One who endorses that view is Martin Crowe. In the middle of his own cricket comeback at the age of 49, Crowe is impressed with many things about Williamson's game.
"The first thing is he's always wanted to bat at three," the former test skipper says. "I think he was going on that tour [of Zimbabwe] and putting his hand up to bat three. There's always the tendency to keep a young kid like that down at five or six. So he's there for good, which is great. He just shows every time he goes out a hunger for runs. He's organised, his mind is very clear about what he wants to do, his feet move well and he's going to score a lot of runs."
Scoring runs has always been a part of Williamson's game, with plenty of urban legends about him from his time at Tauranga Boys' College.
There's the one about when he scored three consecutive hundreds and a 90 at a Northern Districts under-14 tournament and another about how he made more than 20 tons for the school's first XI. Every yarn, it turns out, is true.
"It was quite hardcase how that tournament worked out," Williamson recalls of that under-14 selection tournament. "I didn't bat in the first game then batted in the last four and I got dismissed once so, yeah. It was a funny little sort of tournament, really."
Williamson isn't a fan of taking too much of the praise that's thrown his way and tries to downplay his schoolboy feats. When asked how many times he passed three figures for his college team, he clams up.
"I don't have a clue ... I'm not too sure to be honest ... There were a few."
But it's that unwavering passion to spend his day at the crease which gives Black Caps fans hope Williamson can turn his starts into centuries on a regular basis; something few Kiwi batsmen seem capable of.
"The thing about Kane - I've spent a little bit of time with him in the last year or so - is his hunger to absorb information," Crowe continues. "And he just lives and breathes the game. He had an incredible record as a schoolboy and scored around 40 hundreds, so it's in his blood. He just loves batting. That's pretty hard to buy that sort of passion."
Considering the pressure that comes with being a test No 3 - sometimes you're a faux opener, sometimes you're the Mr Fix-it, sometimes you have to set the pace - the weight of a nation's cricketing hopes are on young shoulders, but Crowe says it isn't going to be a burden for Williamson.
"Nah, not at all. He'll find playing at the top, month in, month out, you have your ups and downs. He'll be playing against Australia [next month] and that will certainly test him. But he'll grow into the role as he matures and there's no stopping him scoring as many runs as possible. He's just one of those finds that come along every now and then, so we are lucky."
Williamson himself seems to take everything in his stride.
"There's always pressure to perform," he says. "But I guess it's an individual thing how you deal with it. To me, I just try to work really hard at my game and try to give myself the best chance to succeed and trust in the work that you do.
"So that's quite important because you want to have a clear mind when you go out and make the best decisions you can. So, yeah, I think that's one way of coping with different things. It's always a different experience every time you bat."
But aside from his fanatical passion for dispatching bowling attacks to all corners of cricket fields around the globe, Williamson, who has a twin brother and three older sisters, appears to be your everyday 20-something guy.
"I play a little bit of guitar," he says. "That's my plus-one when I travel. [I] just hang out with the lads and chill out at the beach where I can."
In between his lengthy spells at the batting crease, he also bowls some handy off-spinners and has five-wicket bags to his name at first-class and domestic one-day level.
It's something he says he is keen to develop, but he hasn't set himself too many other long-term goals.
"Just game by game, really. Which is just try to stay focused each game and score as many runs as I can and obviously you want to be playing for your country and play as many games as you can and that means you've got to do well."
One man who works closely with Williamson on a regular basis is Northern Districts coach Grant Bradburn and the former international off-spinner hasn't been surprised with the rookie's impressive results at the top level.
"He's certainly going well, isn't he, and just keeps improving," Bradburn says. "We always had full confidence that once he got his feet under the desk at international level and once he found his feet and got a little bit more comfortable in the environment that he would have absolutely no problem performing.
"He's a quality player so we have full confidence that he'll go well."
He faces perhaps his biggest challenge in his young career with next month's tour to Australia, which includes tests at the Gabba in Brisbane and Bellerive Oval in Hobart.
"It's definitely an exciting prospect," Williamson says. "We are coming up against one of the best sides in the world at the moment on their own turf. So I'm really looking forward to the opportunity."
New Zealand fans are looking forward to seeing what he can do.
Name: Kane Williamson
Age: 21
Born: Tauranga
Teams: Northern Districts, New Zealand
Test record: (6 games) 416 runs at 37.81; high score: 131
First-class record: (39 games) 2675 runs at 41.15; high score: 192
One-day record: (18 games) 466 runs at 38.83; high score: 108
- APNZ