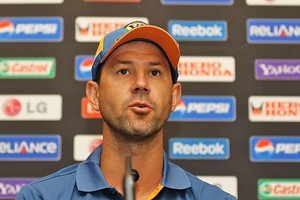 Ricky Ponting retired Tuesday as Australia cricket captain, ending a nine-year career that made him one of the country's most successful skippers, but was marred recently by humiliating team performances at the World Cup and in the Ashes.
Ponting, 36, told a packed news conference in Sydney his resignation as test and one-day international captain was effective immediately, but that he wanted to be considered for selection as a batsman.
He endorsed Michael Clarke as his successor as captain.
Australia's World Cup quarterfinal loss to India last week - the defending champions' worst result at the competition in two decades - followed a 1-3 loss to England in the Ashes series that ended earlier this year.
The losses added pressure to Ponting's leadership and prompted Cricket Australia to announce a comprehensive review of all aspects of the team.
Ponting said the World Cup result was the key factor in his resignation decision.
Ponting has won three World Cups, and was captain in the last two winning campaigns when Australia didn't lose a match. Back-to-back losses to Pakistan and India within six days at the latest competition ended a run of 34-unbeaten World Cup matches for the Aussies.
Ponting has been one of Australia's most successful captains, but recently his record has been slipping - three Ashes series defeats in four series has proved costly to his popularity in Australia. Now Australia will lose its dominance in ODI cricket too.
Ponting's statistics as a batsman remain impressive - he has 13,288 runs from 359 ODIs dating back to 1995, and 12,363 test runs with 39 hundreds.
His 104 against India at Ahmedabad last week was his first century in 13 months, and was initially interpreted as possibly saving his captaincy.
In terms of centuries and runs scored in international cricket, Ponting is second only to Indian great Tendulkar, who is aiming for his 100th international century when India plays Pakistan in the semifinals on Wednesday.
- AP