It's been a remarkable journey for Daniel Vettori who will start a test match for the 100th time tomorrow.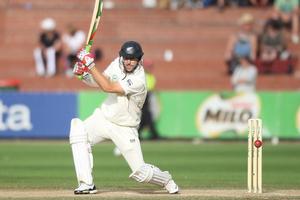 Fellow Northern Districts and New Zealand left-arm tweaker Matt Hart well remembers the day when Daniel Luca Vettori first came bounding in at training.
"He was all arms and legs, he had a mop of hair and glasses," Hart says. "He had a very young face. Crikey, he showed an enormous amount of talent right from the word go, but the thing that stood out was that nothing fazed him.
"It's exactly like he is today, nothing seems to faze him."
The arms are less windmill-like, the legs less coltish, but while Vettori is a more refined product these days he still looks an unlikely sporting hero. You can't argue with the statistics though.
Tomorrow, at his home ground of Seddon Park, he will toss the coin to start his 100th test, 99 for New Zealand and one for the ICC World XI against Australia in 2005. Only Stephen Fleming, with 111, has played more for New Zealand.
It will be his 27th test as captain, fourth behind Fleming (80), John R. Reid (34) and Geoff Howarth (30). He has taken 319 test wickets, behind only Sir Richard Hadlee (434).
Long-time teammate Jacob Oram said the remarkable thing about Vettori is that despite the longevity, he's "still as focused and competitive" as ever.
"I was lucky to make 100 days of test cricket, let alone 100 tests. It's phenomenal - it's not just the physical side of things, it's the mental side too and to think he's still got 40 or 50 more tests to come as well."
The biggest illustration of his growth as a cricketer is the fact he is 75 runs shy of becoming just the fifth New Zealand batsman to score 4000 test runs, following Fleming (7172), Martin Crowe (5444), John Wright (5334) and Nathan Astle (4702).
"I don't recall a huge amount of natural ability," Hart said of Vettori's genesis as a batsman. "It was very much unco-ordinated, much like it is now, but he's developed it to the point where it works for him. He's turned himself into a hell of an allrounder."
The average of 30.9 isn't world-class, but consider that in 2003, 46 tests into his career, he was averaging just 16.1.
"I heard him say once that part of his motivation was embarrassment," Oram said. "I think he was talking about his stats, rather than style. I remember playing him at under-16s and he wasn't pretty on the eye then, but he batted in the middle order and was always a thorn in our side.
"I think he realised around 2003-04 that he wasn't doing his ability justice with the bat and there was a definite shift in his work ethic towards batting."
When Oram came into the national team, Vettori had already been in the side for five years, was near the back of the bus and his opinion was valued in team meetings. But he was still one of the lads. As captain, Oram believes Vettori has consciously distanced himself a little from his colleagues.
"Leadership is a lonely job, you've got to be a little bit aloof, you have to remove yourself from situations that can compromise your leadership.
"He's done that to a certain extent, but he's always worn glasses so he should be intelligent to recognise difficult situations," Oram jokes.
Vettori may be a work in progress as a captain and an over-achieving batsman, but it is the bowling that launched him and that remains his meat and drink.
"As a young fellow, he had some natural gifts with his bowling and was unflappable at the same time, which is a pretty good attribute," Hart said.
He's had his critics over the years. Billy Ibadulla once dissected his action and discovered that there was nothing wrong with it apart from his run-up, his grip, his action and follow-through. Even today you can point the finger with some justification and say he has rarely bowled New Zealand to victory in the fourth innings of a test.
Part of that is the fact he has to bowl so many overs. he's not only New zealand's chief wicket-taker, but best stock bowler too. Hart, who remains a huge admirer, concedes that some fizz has gone off the ball, but believes Vettori is a better bowler.
"He probably turned it more," Hart said. "But with the injuries he's had he's had to remodel his action.
"If you look from then to now it's quite different and what he doesn't have in the ability to turn it sideways, he's learnt a whole lot more about bowling and he's more canny about it."
You could say that about his cricket, really.