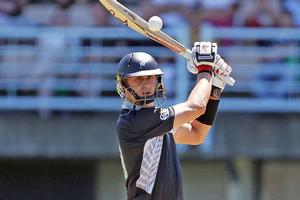 The margin was decisive at McLean Park last night but this time Bangladesh at least gave New Zealand something to ponder in both departments of the game.
The winning margin was 146 runs, but unlike Wednesday night's lame Twenty20 performance, Bangladesh posed questions at the top end of New Zealand's batting and bowling.
Still, captain Dan Vettori was happy last night.
"Obviously we want to look for improvements but overall it was a pretty complete performance," he said.
"If you look at the margin between the teams, I thought we played really well."
The odds on Bangladesh chasing down 336 were always on the wafer side of thin.
Their highest ODI score is 320 against Zimbabwe, and their best against quality opposition is 296 for six against India in Dhaka last month.
They have never reached even 230 against New Zealand in 14 previous attempts.
But for a time, Bangladesh gave it a decent - and entertaining - lash, getting off to a flyer as openers Tamim Iqbal and Imrul Kayes feasted on some pretty ordinary fare.
Much of it was short, wide, or for variation too full from Daryl Tuffey and Tim Southee.
Tamim, of whom there are rightly high hopes in Bangladesh, looked good value in his 13th ODI 50.
He drove and cut impressively and wasn't afraid to punish the poor ball, of which he got a few, and looked to have the right spirit about him.
Bangladesh's dilemma is that they need all their best batsmen to fire at the same time to be truly competitive.
But when new cap Andy McKay removed Kayes and Mohammad Ashraful in quick order, the momentum that had Bangladesh sailing along at seven runs an over was interrupted.
McKay's opening over cost 11. But he can reflect on a satisfactory debut, in which he got up to a very handy 146km/h at one point, and rounded it off with a fine diving catch at fine leg.
When Vettori's left-arm spin undid both Raqibul Hasan - struck on the hip stretching well forward to sweep - and Tamim, after a jazzy run-a-ball 62, that was effectively that.
The other highlight was a spectacular one-handed catch on the point boundary by Peter Ingram.
Tip-toeing just inside the rope, he tossed the ball back infield to regather, only to find it had been a free hit, courtesy of Jacob Oram's previous no ball.
New Zealand's batting was a strange mix, even though the end result was more than sufficient for the job. They were tied down early and at 135 for five it was, to say the least, interestingly poised.
Brendon McCullum had run himself out in the fourth over; Martin Guptill drove loosely to backward point.
Ingram and Ross Taylor pulled things round in breezy fashion before three wickets fell for 18 in 26 balls.
Ingram's maiden half century in his ODI debut amply demonstrated his stand-and-deliver approach. His footwork is minimal but he has a keen eye and gave the ball a decent clout.
Neil Broom, dropped by wicketkeeper Mushfiqur Rahim on 26, completed a tidy maiden ODI 50 in his 18th match. He and Oram plundered 123 - a seventh-wicket record against all countries - in just 67 balls as Bangladesh's bowling got ragged. In five powerplay overs, they creamed 82.
Oram was brutal on a ground which was, for him, too small. He clobbered his way to 50 in 28 balls and 12 balls later lost his middle stump at 83. He cleared the rope five times.
The second of the three ODIs is in Dunedin on Monday.