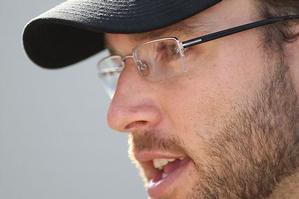 Daniel Vettori has talked of stepping aside from the New Zealand captaincy after next year's World Cup.
However I'd imagine New Zealand Cricket will fancy persuading him to stay on for at least another couple of years.
He is finding his feet in the role and New Zealand will benefit from him carrying on for a while yet, partly because he'll grow in the job and partly to ensure the line of succession is smooth.
Early this week it emerged that Ross Taylor has been appointed vice-captain, but no one was supposed to know about it. NZC finally went public with the move yesterday.
But why the secrecy? One view was that it was something to do with a reluctance to publicly saddle Taylor with any additional pressure as he works to maintain his position as New Zealand's best batsman.
I don't buy that.
My pick is that it was more about not putting the previous vice-captain, Brendon McCullum, in an awkward spot, seeing he has now been relieved of the job.
Reading between the lines, it looked like they didn't want to announce something that could be perceived as a slap in the face for McCullum.
But if you think about it, all the players obviously knew, and those sorts of things don't stay secret for long. People aren't stupid. Remember the old line: if it walks like a duck, quacks like a duck, then it most likely is a duck. I don't understand the need to go all hush-hush.
It's no big deal being the vice-captain. There are far more onerous tasks in the world. It's a title without any specific duties, more a backup plan in case anything goes wrong with the skipper.
It is an interesting situation, given that neither McCullum nor Taylor have had much, if any, captaincy experience to date.
When Vettori was in his early years in the national team, the senior players all suspected he would end up as captain. He just had that feel about him.
The ideal situation is if NZC canget another couple of years out of Vettori as captain, then perhaps another two or three as senior player, with all the value that would bring to the team, but without the burden of captaincy.
In McCullum's case, being opening batsman, wicketkeeper and captain is a huge ask of anyone. He might do it short term once Vettori steps aside, before Taylor takes over.
I haven't seen much about Taylor which tells me he must have the captaincy one day. But having seen guys like him at a similar stage of their careers, they do tend to grow into it.
And even if he hasn't done much captaining in his career, I think he will start to move in that direction in the next couple of years.
Bangladesh coming here slap bang in the middle of our summer? Sorry, but it doesn't spin my wheels.
They were here round the same time two summers ago. No disrespect - and at various times in the five games they will give New Zealand something to think about - but we seem to be playing them too much in the prime part of our international home season.
It's not doing our cricket much good and I find it frustrating how often we are playing them at home at our peak time. For the sake of our game, it shouldn't be happening.
One intriguing part of the tour will be how New Zealand go about getting 20 wickets in the test at Hamilton. No Bond, no O'Brien, no Mills and we're looking a shade thin.
It's a big chance for those bowlers chosen to nail spots for the Australian tour to follow. If they don't bowl well, and get wickets, they can hardly expect to be picked to play Australia.