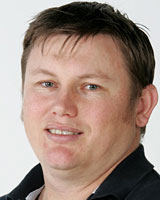 Remember those halcyon days when the sun was shining, the cicadas were chirping, the grounds were heaving and cricket viewing figures were up a whopping 21 per cent?
Remember when names like McCullum and Vettori were knocking the World Cup flop All Blacks off the back pages? When talk of cricket's brave new world dominated talkback?
Funny to think that was only a few months ago. New Zealand had thrashed England in the one-day series and, while ultimately disappointing in the test series, it was at least competitive and the people were voting with their feet and their remotes.
Last night you could imagine the only people tuning in to the latest New Zealand debacle were those who found their local S&M clinic had suddenly closed and they needed a quick pain fix before bed.
To mangle a well-worn advertising campaign: It's not the fact they're losing, it's how they're losing.
New Zealand are now in the process of writing a grim tale: How to turn a sport from boom to bust in five easy steps.
1. Make the players look like money-hungry frauds
Whichever way you slice it up, the Indian Premier League ended up being an almost unprecedented PR disaster for New Zealand Cricket. Their hands were tied in ways that it is difficult to explain in less than 1500 words, let alone a paragraph, but it went something like this.
To stop an exodus to the rebel Indian Cricket League in the wake of Shane Bond's multi-million dollar deal, Daniel Vettori, Stephen Fleming, Scott Styris, Brendon McCullum and Jacob Oram were 'encouraged' to sign with the sanctioned IPL. There was some dismay when their pots of gold turned out to be strictly pro rata rather than lump sum so, rather than having to deal with a bunch of disenchanted players, NZC felt it more politic to let them maximise their deals to the extent they didn't have to turn up on time for the England tour. Got it?
Considering most of the players mentioned still have plenty years worth of earning potential it smacked of greed but was, to a certain extent, understandable.
What was less acceptable was some of the egregious justifications given for the no-show. Vettori fronted with less than a captain's knock when he stated that the warm-up games were superfluous to requirements and that New Zealand never usually had lead-in matches anyway. In saying so he produced the unsatisfactory quinella of being utterly wrong on both fronts.
Others tried to justify the absence by saying that the intense cricket the IPLers would play would provide better preparation than the county games. You can count the different ways that statement is stupid: different format, different balls, different freakin' country.
Forget the nonsense that because the best performed players in the first test were Vettori, Oram and McCullum it somehow justified their decision (what about Taylor and Kyle Mills?). They were the best-performed players because they are the best players, but they could have been even better had they done the right thing.
2. Have a coach who doesn't know when to talk or when to shut up
In the early days of the tour to England a member of the New Zealand management team was gushing about the fact John Bracewell was in "a great space". By last week it was clear he'd confused "great space" with "outer space".
In terms of analysing tests while they are in progress Bracewell is in a league of his own in terms of disappearing acts, not fronting up until the day after for a post-mortem. This results in the often embarrassing situation of the media forced to look for answers after another bad day at the office from somebody who might have nudged a 40-odd or taken a couple of wickets. In other words, it is buck-passing on a level not seen from New Zealand coaches in the pre-Bracewell era.
If this is a dereliction of duty then Bracewell goes above and beyond the call of duty when it comes to insensitive statements. He put Adam Gilchrist in the gun last year when he made public that Gilchrist was going home to Perth not for rest but for personal reasons, a statement he later revised.
After the Herald on Sunday revealed that Stephen Fleming was going to bring forward his retirement to the end of the home summer, Bracewell ruined any chance chief executive Justin Vaughan had of turning Fleming around when he claimed he wasn't worried about the former captain's absence in England.
But the clincher was his 'revelation' that he argued for Fleming's retention as captain. Despite the fact he was right and Glenn Turner and Dion Nash have been proved wrong, how do you think Vettori feels about the fact his coach has very publicly stated he'd rather Fleming was still test captain? How do you think Nash and Turner feel about his betrayal of their confidence?
It might mean a short-term financial hit in the form of a pay-off, but the man simply must go... now.
3. Don't pick your best players - for whatever reason
New Zealand's talent pool is small, we keep hearing. Yet the ease in which Nathan Astle, Stephen Fleming, Craig McMillan, Lou Vincent, Hamish Marshall, Andre Adams, Scott Styris (in tests) and, most pivotally, Shane Bond have been jettisoned before their time was up has been frightening.
There are a variety of reasons for the exodus. Astle and Styris clearly had a sense of entitlement that wasn't reciprocated by the selectors, while Fleming's dumping as test captain was, by most normal people's standards, harsh.
McMillan was enjoying something of a career revival until his diabetes, or perhaps thirst for money, got in the way, while Vincent, Marshall and Adams were probably tiring of the view from the fringes.
Bond's sorry saga has been documented on these pages many times and there is no need to go there again.
Throw in the fact that Jesse Ryder's lavatorial escapades robbed him of a certain test debut and James Franklin's continued absence due to a knee reconstruction and you have a New Zealand team with a pale pallor compared to what could have been.
Test cricket is meant to be exactly that: a test between the best 11 cricketers of their respective countries (barring injury). No team that has beaten New Zealand recently can, hand on heart, say they've beaten our best players.
"There's been a lot going on since I've taken over the captaincy with retirements and other guys moving into other avenues of the game," Vettori told NZPA last week.
"That's made it a little bit difficult but if I'm honest, this is probably 95 per cent of the team I'd want anyway.
"There's not too many losses from my perspective. Now there's a chance to try and grow this group. I don't think growing is an excuse for not winning."
His "95 per cent" claim appears a little miscalculated - either that or disingenuous - but he is right about the last bit at least, which leads to...
4. Consistently lose test matches in pitiful fashion
So you've been rocked by unavailability and, face it, you're not the most fashionable side in the world anyway, but there is no excuse for not showing the requisite fight.
At Napier in the third test of the home series only Tim Southee's 11th-hour pyrotechnics saved New Zealand from complete embarrassment, something like what was experienced at Trent Bridge.
This side, under this coach, have repeatedly shown they are not able to go toe-to-toe consistently with teams for five days.
But there's always one-day cricket, right? Well, not necessarily. Kevin Pietersen has predicted the slow death of this form of the game and it's hard to argue, with T20 booming, that he will be wrong on this one.
In McCullum, Vettori, Oram and Mills you have a core of senior guys who are likeable and have a reservoir of goodwill built up over recent years. That will start to drain very quickly if there's not a rapid improvement.
5. Sit back and pretend you're not in trouble
This is the one point that New Zealand Cricket has not yet arrived at and, if Vaughan is to earn his corn, the one point they should never arrive at.
In the midst of a restructure that should have significant benefits down the track, Vaughan must also act quickly to restore confidence in the flagship team. He simply has to make the tough call of changing coach before the next domestic summer. Make the PR people earn their money. Bracewell is off to Gloucestershire next winter anyway so dress it up that he needed a break before taking that role.
It won't act as a panacea, but it is at least pro-active.
By Dylan Cleaver

Email

Dylan