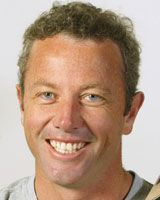 The end of the New Zealand summer left people wanting more. Interest was high and the tour by England had captured imaginations. There was definite justification for a five-test match series, a rare beast indeed. However, at 2-1 to England after three tests, I'd have predicted a final scoreline of 4-1 if the series had been extended to five.
John Bracewell has repeatedly called the current tour the second part of a six-match series and right now I can't see anything other than 5-1.
At home, England just have too much class to call upon and Steve Harmison becomes a factor again. As for the Black Caps . . .
I'm sure the players don't share my pessimism. Well, I hope not anyway. They know that in New Zealand their counterparts dominated more key moments than they did and hold an upper hand in test match quality.
To have any chance, confidence will need to be gained quickly. In warm-up games, the seam bowling has been okay although much of the build-up has been weather-affected, injury-affected (Daniel Vettori's finger) and IPL-affected.
From afar it feels as it the Black Caps have yet to gain cohesion.
One thing the team can draw strength from is that England doesn't have a particularly dominant record at the venue for the first test, Lord's. That can be put down to the motivating effect the occasion has on touring teams.
The chance to play a test match at the spiritual home of cricket may come only once. Even for those who enjoy multiple tours of England, the experience does not lose its significance.
I won't say performing on the hallowed turf is the be-all and end-all for a cricketer but it is certainly one of those occasions when a player is desperate to do something meaningful.
You can't help but enjoy the Lord's experience. There's the walk through the long-room, which is phenomenal. A walk anywhere in the historic pavilion which reeks of the history of the game cannot help but inspire.
There's the quirkiness of the Lord's slope and the hum of the crowd which is always full come test time. It's a rare cricketing experience for a tourist and one not to be wasted.
In this place above all others, I expect to see Jamie How lift himself to a performance worthy of his talent. Chris Martin has one last go to get his name on the honours board. Brendon McCullum blew a hundred last time (out for 96) and he is the one current player who can transfer drive into performance.
If the Black Caps are to win a test, they will have to perform above their current selves. The place they are most likely to do that is in the first test at Lord's.
By Mark Richardson

Email

Mark