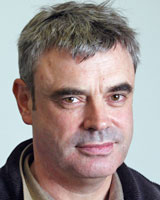 It is an odd way for Stephen Fleming to make his farewell, being waved off with all this hooha about his batting average.
It would have been even stranger still if Fleming had come to the crease at Napier on the back of an opening partnership that lasted longer than it takes for a kid to devour a bag of chips.
No such luck. The New Zealand cricket selectors might be on the right road with Jamie How but are careering down a ravine with Mathew Bell. This represents a potential 50 per cent success rate, which by their standards is not bad.
And so, back to Mr Fleming.
It's been obvious for years that Fleming's career would fall short of expectations if it needed to be judged by numbers, that his above-average talent would not be reflected in the averages column.
There is a tipping-over point in long test careers where it becomes almost impossible to move a batting average upwards to any great degree.
Fleming's test average has had as much chance of mounting a significant fightback as the heavily pleated chinos he bravely models.
The last batsman to go out with so much emphasis on his average was Don Bradman, and that WAS important. In contrast, 40 is virtually a non-event as a benchmark in world cricket, even if Fleming's departure has seen it drummed up as mildly significant here.
Fleming's game was about far more than numbers or even captaincy, over which he is lauded by some and politely clapped by others.
It is his elegance and grace with the bat that should, hopefully, be long remembered with extreme fondness. It might be a long time before we produce another player to relish watching on this score.
Fleming, aided by left-handers' idiosyncrasies, is the most truly graceful of all New Zealand batters in the past four decades, Martin Crowe excepted, perhaps. Fleming could be as good to watch as any batter in cricket, the proviso being that his overly hasty departures meant you had less chance of catching him while he was hot.
There was also something endearingly old-fashioned about him - wearing his strides too far above the hip to be hip wasn't Fleming's only nod to the past.
He was a reminder of the truly glorious David Gower - the Englishman who would have written the book on nonchalant batting elegance if he could have drummed up the energy - and even further back to the images we have of Colin Cowdrey types.
As in the case of the legendary Cowdrey, you even wondered sometimes if Fleming felt it a bit crass to relentlessly pursue mammoth scores, especially at the expense of fine strokeplay.
In particular, Fleming employed a minimum of movement - especially in the field - against the modern trend for muscular, athletic belligerence. Fleming belonged in an era when batters wore caps and looked all the better for it.
It is great fun and exhilarating watching the Adam Gilchrists of this world bludgeoning the ball around, but Fleming reminds us that there is another way to do it.
If we do have to go down the statistics path in reviewing Fleming's career, then it is his test strike rate of around .45 which is most surprising. He may not have lasted as long as hoped, but you felt certain he scored more quickly than that.
Oh well, wrong again. And all the old Fleming flaws were still there yesterday, as he flayed the English attack while giving them lots of encouragement. Having rocketed into the fabulous 40s, he left one delivery that should have knocked over his off stump, was dropped in the slips, and flirted with cover. Typically, he cut himself short on 59. These are blemishes over which Steve Waugh would have overhauled his career. Tiger Woods completely remodelled his swing for less.
But dear old Flem has carried on, or not carried on, regardless. As we saw yesterday, he was still a lot better than the dross that has often existed around him.
And if the great cricket God were to grant a wish and let a plodder such as I play just one cricket shot of desire, then a Fleming swish to the off would do more than nicely.
Fleming could leave the ball with more style than most batsmen muster with a strike. As for a definition of such gracefulness, it is difficult to put into words except to say here that Greg Chappell was elegant and Ian Chappell was not.
Fleming has been an absolute joy to watch on his good days, and there weren't enough of them.
By Chris Rattue

Email

Chris